Rochelle will address the "Fundamentals of Robotics".
Chicago, IL - Bob Rochelle of Stäubli Robotics is a guest speaker at Automate 2015, March 23rd 8:00 AM to 12:00PM. Automate is the largest solutions-based showcase of automation technologies in North America. Formerly the International Robots, Vision & Motion Control Show which date back to 1977, Automate now demonstrates the full spectrum of automation technologies and solutions for a broad array of industries. The show is held once every two years.

Rochelle will address the "Fundamentals of Robotics". The seminar will include: learning the basics of how robots work, which tasks they are best suited, potential robot applications, evaluating robot equipment and suppliers, how to effectively budget for robot applications, and how to avoid failure. This is a great training course for anyone seeking tips on how to successfully apply robots to their company.
Rochelle will also be speaking as part of a "Huddle" March 25th at 11:00 AM, regarding the topic: "Mistakes you will make in your first robot installation".
Staubli Robotics Division will be presenting advanced robots carrying out a multitude of tasks with exceptionally high speed, accuracy and reliability. Robots as well as robot controllers and software solutions for automating numerous applications across all industries will be on display. Twelve unique live demos will be illustrated at the show demonstrating from the clean, consistent performance of the TX Cleaning, Stericlean and HE Clean Robots to the TP80, particularly well-suited for packaging applications in various fields such as food, pharmaceuticals, photovoltaics and cosmetics.
At Booth 672, Stäubli will exhibit the latest in high performance robotic solutions to match the most specific requirements of all industrial sectors. The booth will include live robot and software demos, as well as interactive connector exhibits. For the past 30 years, Stäubli has developed and produced market oriented robotic solutions known for their high quality and reliability.
Stäubli robots are ideally suited and reliable to work under extremely high demanding production conditions such as clean or humid environments. With the Stäubli product line, you have the insurance to fulfill every requirement for shortest cycle times and maximum flexibility.
Featured Product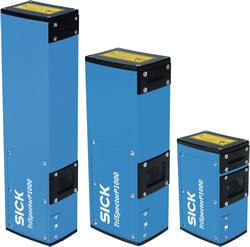 Take your quality inspections to the next level with tailor-made 3D solutions from SICK, Inc. The TriSpector1000 is a stand-alone, configurable 3D vision sensor that reliably inspects objects regardless of variations in color, height, shape, or position. It is suited for solving quality control issues and can be used for volume & thickness measurement and inspection of box integrity. Check out SICK's quality inspection solutions at Pack Expo 2019 in Booth #LS-6419.