BZ Media LLC announced today that Chris Anderson, New York Times best-selling author, CEO of 3D Robotics, and founder of DIY Drones will deliver a keynote address at InterDrone, being held September 9, 10, 11 at The Rio in Las Vegas. Andersons keynote is scheduled for the morning of September 10. More than 3,000 drone builders, flyers and buyers are expected to attend the largest annual event bringing together all the key participants in the growing market for commercial drone aircraft.
Anderson is author of the New York Times bestselling books "The Long Tail" and "Free" and also published "Makers: The New Industrial Revolution. He was also Editor-in-Chief of Wired Magazine and wrote for The Economist.

"This is an incredible time to be all-in on Drones, as weve only scratched the service of what this amazing technology can do. This is the first minute of the day for this industry, and that were just starting to see what happens once we take complexity out of the equation. Thats what youll see reflected at InterDrone, and I am excited to be delivering a keynote address at the show," said Anderson.
InterDrone, a three-day event, features a two-day technical conference for drone-building engineers and software developers, and an overlapping two-day conference for the buyers and flyers of commercial drones, with more than 70 classes, panels and keynotes in all. There will also be an exposition with 80+ exhibitors expected to display their latest products and technology.
More than 70 media partners on five continents have already signed on to support and help grow InterDrone, including AUVSI, Frost & Sullivan, RotorDrone, Unmanned Magazine, Geo Connexion, Inside Unmanned Systems, Chip Design, GIS Cafe, Electronic Products, Unmanned Aerial Online, DroneBlog, Embedded Developer, Linux Journal, RTC Magazine, Unmanned Tech Solutions, GeoConnexion, and China Tech News.
The exposition will allow manufacturers of drones to both source products from OEM exhibitors, as well as meet and sell to professional commercial drone buyers in the agriculture, journalism/film, search-and-rescue, and real estate industries, among others. The exposition will also include a drone demonstration area, the Yes Fly Zone.
Registration for the event—strictly for trade and commercial drone builders, buyers and flyers—is now open at www.InterDrone.com. The Call for Speakers will close on May 15. For information on speaking at InterDrone, contact Katie Serignese at kserignese@bzmedia.com. For information on exhibiting or event sponsorships, please contact Ted Bahr at ted@bzmedia.com or +1 631-421-4158 x101.
Featured Product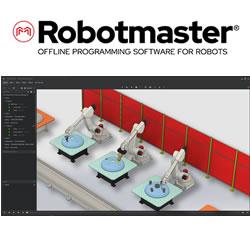 Robotmaster® offline programming software for robots helps manufacturers maximize their productivity and profitability with an intuitive and powerful programing solution ideal for production runs of all sizes and varying part complexity as a result of integrated CAD/CAM functionality.