New low-alloy steel options complement existing stainless steel materials for injection molding
MAPLE PLAIN, Minn.--Product designers and engineers can now get injection-molded low-alloy steel prototypes and low-volume production parts at rapid manufacturer Proto Labs, Inc. (NYSE: PRLB). The technology-driven company has added two nickel steel materials (Catamold FN02 and FN0205) and a chrome-moly material (Catamold 42CrMo4) that is the metal injection molding (MIM) equivalent of 4140 steel. The new metals expand the potential applications for parts produced by Proto Labs advanced MIM process.

"Weve had tremendous customer demand for stainless steel with MIM last year, and expect the same response to our new low-alloy metals," says Becky Cater, Proto Labs product manager for MIM. "We offer many different hard and soft metals through our 3D printing and CNC machining services at Proto Labs, but nickel steel is only produced through metal injection molding. This material boost will inherently let our customers do more things in the realm of low-volume metal manufacturing."
Low-alloy steel creates strong, wear-resistant metal parts when heat-treated and is able to be to be coated in post-processing for further protection. As for applications, the low-alloy steel materials will be used heavily by the firearms industry for various gun and archery components as well as by automotive engineers for engine and transmission components, and the industrial goods sector during development of hand and power tools, and door and window lock hardware, for example.
In addition to rapid prototypes, Proto Labs can produce up to 5,000+ metal injection molded end-use parts within 15 days. Learn more about the complex multistep MIM process with a comprehensive white paper at protolabs.com.
About Proto Labs, Inc.
Proto Labs is a leading online and technology-enabled quick-turn manufacturer of custom parts for prototyping and short-run production. Proto Labs provides "Real Parts, Really Fast" by utilizing injection molding, computer numerical control (CNC) machining and additive manufacturing to produce parts for product designers and engineers worldwide. For more information, visit protolabs.com.
Featured Product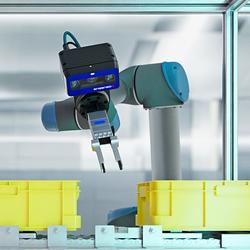 Combining the ease of use of a webcam with the performance and reliability of an industrial camera? The uEye XC autofocus camera from IDS Imaging Development Systems proves that this is possible. Its high-resolution imaging, simple setup and adaptability make it an invaluable tool for improving quality control and streamlining workflows in industrial settings - especially for cases where users would normally employ a webcam. The uEye XC autofocus camera features a 13 MP onsemi sensor and supports two different protocols: USB3 Vision, which enables programmability and customization, and UVC (USB Video Class). The UVC functionality enables a single cable connection for easy setup and commissioning, while delivering high-resolution images and video. This makes the uEye XC camera an ideal option for applications that require quick setup and need to manage variable object distances. Additional features such as digital zoom, automatic white balance and color correction ensure precise detail capture, which is essential for quality control.