Industry leaders from across the commercial UAV sector to gather in London on 24th April.
The commercial UAV community from across the globe will gather in London on 24th April to discuss the latest trends, best practice and innovations taking place within the industry.

As the commercial UAV industry becomes increasingly popular, shaping the direction of the sector has never been more important. SkyTech 2015 will bring together the key players within the industry to facilitate partnerships, deliver knowledge transfer, encourage growth and provide a forum to navigate the most complex debates emerging out of the industry.
Meet with leading manufacturers, component suppliers, software companies, service providers, charities, UAV associations and academics; stay up-to-date with the impact of recent regulatory changes to existing UAV operators; and engage with end users from a range of targeted industries.
SkyTech 2015 is already set to be a must attend event, with all conferences and workshops now fully booked. Last remaining exhibition passes are selling out fast. To register for the free exhibition visit the website www.skytechevent.com
Speakers Include:
Gerry Corbett, UAS Programme Lead, Safety and Airspace Regulation Group, Civil Aviation Authority
Justin Pringle, Drone Development Manager, Heliguy.com
Professor Simon Blackmore, Head of Engineering, Harper Adams University
Robert Whitehouse, Business Development Director, TEKEVER
Mark Jarman, Operations Manager, URSULA Agriculture
Thibaut Miquel, Business Development Manager, Redbird
Benjamin Kenobi, UAV Pilot & Director, Rogue State Media
Professor Samia Nefti-Meziani, Professor of Artificial Intelligence and Robotics, University of Salford
Exhibitors Include:
TOPCON
Coverdrone
senseFly
Leica Geosystems
UAVIONIC
Resource Group
Rheinmetall
DroneFlight
CONTACT DETAILS:
Eric Lewis
Email: enquiries@charlesmaxwell.co.uk
Phone: 0203 131 0048
Featured Product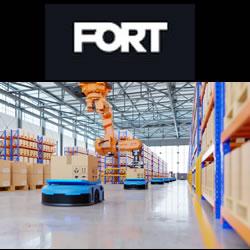 Machine safety and security are two critical components of any industrial operation. Our latest video explores this question and provides insights into how security measures can enhance machine safety. Nivedita Ojha, VP of Product at FORT, breaks down the key considerations when it comes to securing your machines and keeping your workers safe, explaining why there is no safety without security.