Ultimaker Original+, Ultimaker 2, and Ultimaker Heated Bed Upgrades Are Now Available To the Public
(CHICAGO)- Ultimaker, a top 3D printer manufacturer, is leading the open source 3D printing movement by sharing the Ultimaker Original+ and Ultimaker heated bed upgrade files with the public. Working to foster a community collaboration of like-minded people to share ideas and inspire other users, Ultimaker is dedicated to improving its 3D printing technology to reflect what the customers really want. By turning its audience into a development partner, Ultimaker expects to learn and understand the best ways to improve its product to fit the needs of the 3D printing community.

"Ultimaker is committed to sharing new designs, functions and updates with our customers to give them the freedom to 3D print to the best of their ability," says Siert Wijnia, CEO of Ultimaker. "Being open source enables Ultimaker to focus not only on what we think is important, but also allow our uses to grow and transform with us as we develop new technology."
Ultimakers decision to be open source is a reflection of the constant growth of its industry. As a new technology, 3D printing is constantly evolving and reinventing itself. Ultimaker understands that to keep up, there needs to be constant dialogue with the tech community. One of the key benefits of releasing the files is the new channel of communication with its users to help improve manuals as well as printer assembly and mechanics.
For more information about Ultimaker, please visit www.ultimaker.com.
About Ultimaker
Founded in 2011 by three Dutch makers who invented the original Ultimaker, the leading European 3D printer manufacturer has since received multiple global awards and positive industry product reviews. Most recently, the company was awarded best in shootout 2015 in the established Make Magazine and best Consumer Product at the 3D Printshow Global Awards 2014. Committed to making 3D printing better, faster and simpler, the Ultimaker is designed to print larger objects, while the 3D printer itself only occupies a small space on the desktop. Ultimaker strives to participate in the scene instead of being a corporate entity. As one of the most successful open source companies, Ultimaker works very closely with its community to create a personal fabrication revolution. For more information, please visit www.ultimaker.com.
Featured Product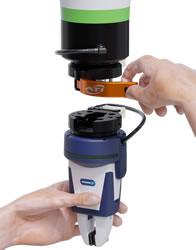 Simpler, stronger, and more precise. ATI Industrial Automation has developed a series of Manual Tool Changers that provides a cost-effective solution for quickly changing tools by hand. They feature a unique design that combines high strength, excellent repeatability, and a patent-pending screw-cam locking mechanism with multiple fail-safe features, which resists vibration and prevents loosening. These robust and compact Manual Tool Changers can handle payloads up to 80 pounds (36 kg) and pass pneumatics and electrical signals.