Company teams with Skycatch to advance processes in the construction industry
HOUSTON, April 6, 2015 -- Bechtel has been granted permission for commercial use of unmanned aircraft system (UAS) technology by the United States Federal Aviation Administration (FAA). The permission allows Bechtel to operate UAS technology, also known as unmanned aerial vehicles or drones, on projects in the United States to enhance construction processes within the virtual project delivery approach.

"The use of UASs is crucial to continued innovation in engineering and construction," said Mike Lewis, Bechtel's manager of construction. "We teamed with Skycatch to explore innovative ways of integrating drones into our execution systems, particularly on the megaprojects Bechtel is building around the world. This technology helps improve safety and quality of project delivery by providing real-time data and analysis to project teams so they can act in a timely manner."
"We have put a lot of thought into our drones and their operation, heavily focused on the safe and efficient use of the technology," says Christian Sanz, founder and CEO of Skycatch. "We developed a unique platform connected to a Cloud for real-time analytics, and with preprogramed geographic controls for safe operation and compliance with flight announcements."
The FAA authorization granted under the Section 333 of the 2012 FAA Modernization and Reform Act is based on the cutting-edge UAS technology and accompanying software developed by Skycatch. The technology gathers real-time data and provides powerful data analytics necessary to improve efficiency of construction on large and complex projects. Skycatch uses a patented automated power system that automatically recharges during operation, allowing drones to fly extended periods of time. The system can carry a variety of sensors like high-definition cameras, infrared scanners, thermal sensors, and radiation monitors.
Bechtel teamed with Skycatch in 2013 to further develop the company's UAS platform and integrate it into Bechtel's systems and processes. The data collected by the drone can now be stored in a cloud, analysed within Bechtel's design and construction software requirements, and viewed on multiple devices by the teams on site. The companies proved the technology's viability at one of the largest LNG projects in Australia. Bechtel will use the technology to collect real-time environmental data (e.g. air quality, temperature, etc.) to ensure safe operation of projects; to survey difficult and inaccessible terrain to provide accurate information needed for our engineering teams to design facilities efficiently and with improved environmental footprint; and to track real-time construction progress enabling our site teams to work safely and plan construction more efficiently.
About Bechtel:
Bechtel is among the most respected engineering, project management, and construction companies in the world. We stand apart for our ability to get the job done right—no matter how big, how complex, or how remote. Bechtel operates through five global business units that specialize in civil infrastructure; power generation, communications, and transmission; mining and metals; oil, gas, and chemicals; and government services. Since its founding in 1898, Bechtel has worked on more than 25,000 projects in 160 countries on all seven continents. Today, our 53,000 colleagues team with customers, partners, and suppliers on diverse projects in nearly 40 countries. www.bechtel.com
About Skycatch:
Backed by premier VC's and used by some of the largest companies in the world, Skycatch is a platform for capturing data using small autonomous aerial robots. Since inception, Skycatch has been innovating in multiple different technology areas including photogrammetry, data analytics, and advanced aerial technology, and is now the fastest growing company in the autonomous aerial mapping market. Skycatch's autonomous data collection platform is built for enterprise with safety, strength and reliability in mind. It can cover large geographic areas, be equipped with different sensors depending on the customer's needs, and operate in challenging weather conditions. Our proprietary battery-swapping and autonomous landing technology gives our aerial robots the ability to scale and operate without human involvement. Construction, Mining, and other complex job sites around the world are turning to Skycatch to satisfy their need for accurate and real time data. www.skycatch.com
Featured Product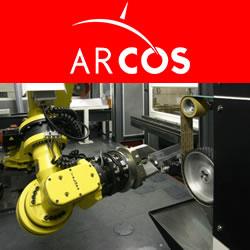 Robotized system for automatic cutting and grinding turbine blades , starting from the rough product. The system is equipped with fully automatic component loading and unloading. Approved 3M Robotics System Integrator.