The industry is seeking ways to make submersibles stay underwater longer and travel farther. Battelle is helping enable those missions.
COLUMBUS, Ohio (April 8, 2015)—Mission persistence has long been one of the most vexing problems for naval forces. Battelle, and its subsidiary Bluefin Robotics, are enabling missions for the maritime industry around the world with a suite of tools that includes sophisticated navigational sensors and rugged, long-life power systems on unique Autonomous Underwater Vehicles (AUVs).

Every time a vessel must make a launch and recovery on the seas, it takes time, money and increases the risk to personnel. The industry is seeking ways to make submersibles stay underwater longer and travel farther. Battelle is helping enable those missions. It does so in a variety of ways including an underwater docking and replenishment station for undersea vehicles, lifecycle engineering, and use of sensors and submersibles.
Making a rare appearance at the industrys largest trade show and conference (Sea-Air-Space Expo) is Proteus, a Dual Mode Underwater Vehicle, in the Huntington Ingalls Industries (HII) booth (#2125). The large vehicle, which can operate in both manned and unmanned modes, was jointly developed by Battelle and Undersea Solutions Group, formerly The Columbia Group (TCG) Engineering Solutions Division, using Bluefin Robotics-developed batteries and autonomy. This TCG division was acquired by HII earlier this year, making HII and Battelle co-owners of Proteus. Compared to conventionally-sized underwater vehicles, the Proteus can carry larger payloads and cover greater distances than previously possible.
Also featured at Battelles booth (#1219) will be:
• Bluefin 21: A highly modular autonomous underwater vehicle able to carry multiple sensors and payloads at once, this model was used in the hunt for the missing Malaysian jetliner and its Bluefin 12 variant was used more recently in the discovery of the Japanese battleship Musashi wreckage.
• SandShark, a small autonomous underwater vehicle, offers an open platform for rapid AUV technology development.
• HorizonVue camera that provides live video feed with a 360-degree vantage point. It can be mounted on remotely operated vehicles (ROVs) to assist with visually surveying hard to see areas in complex operating environments.
• Unique Bluefin pressure-tolerant, lithium polymer battery systems that provide reliable, energy-dense power.
About Battelle
Every day, the people of Battelle apply science and technology to solving what matters most. At major technology centers and national laboratories around the world, Battelle conducts research and development, designs and manufactures products, and delivers critical services for government and commercial customers. Headquartered in Columbus, Ohio since its founding in 1929, Battelle serves the national security, health and life sciences, and energy and environmental industries. For more information, visit www.battelle.org.
For more information contact Katy Delaney at (614)424-7208 or at delaneyk@battelle.org or contact T.R. Massey at (614) 424-5544 or at masseytr@battelle.org.
ABOUT BLUEFIN ROBOTICS
Bluefin Robotics, designs, manufactures and operates Autonomous Underwater Vehicle (AUV) systems and related technology including battery power systems. Founded in 1997, the company has grown to become a world leader in AUV products designed for defense, commercial and scientific applications. Bluefin Robotics is a wholly-owned subsidiary of Battelle--a leader in maritime technologies; enabling rapid development and deployment of solutions for government and industry. For more information, please submit an inquiry here, contact Chantal Keleher, ckeleher@BluefinRobotics.com, or visit www.bluefinrobotics.com.
Featured Product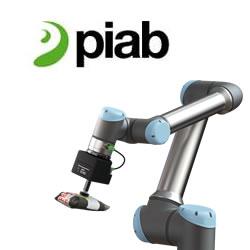 Piab's Kenos KCS gripper enables a collaborative robot to handle just about anything at any time. Combining Piab's proprietary air-driven COAX vacuum technology with an easily replaceable technical foam that molds itself around any surface or shape, the gripper can be used to safely grip, lift and handle any object. Standard interface (ISO) adapters enable the whole unit to be attached to any cobot type on the market with a body made in a lightweight 3D printed material. Approved by Universal Robots as a UR+ end effector.