Silent Falcon represents the dawn of commercially produced, economically viable solar-electric aircraft systems.
DENVER--Ascent Solar Technologies, Inc. (NASDAQ:ASTI), a provider of state-of-the-art, lightweight and flexible thin-film photovoltaic (PV) solutions, working closely with Silent Falcon UAS Technologies (SFUAS), has begun supplying PV for the solar wings of their vehicles as SFUAS is preparing for the production runs to fill its first commercial orders of the Silent Falcon vehicle.

Silent Falcon represents the dawn of commercially produced, economically viable solar-electric aircraft systems. The patent-pending Silent Falcon is a solar-electric, all composite, modular small Unmanned Aircraft System (sUAS) with an interchangeable wing configuration designed for commercial, public safety and defense applications. In 2010, Bye Aerospace created what is now SFUAS, capitalizing the company with a prototype electric unmanned aerial vehicle (UAV) and initial design work on solar electric hybrid propulsion. The combination of efficient aerodynamic design, lightweight composite construction and advanced solar energy collection gives the 30 lb. Silent Falcon UAS remarkable all day flight endurance.
"Silent Falcon is the first solar-electric aircraft to enter commercial production. Its solar-electric design gives it unmatched performance and value in its class. Silent Falcon™ is taking and filling its initial customer orders," said John Brown, President of SFUAS.
"We are extremely pleased with the Silent Falcon aircrafts capability," said Joe Armstrong, CTO of Ascent Solar. "Its solar wings, based on our in-production, flexible, monolithically integrated CIGS photovoltaic product, are performing extremely well, giving the propulsion system a significant source of lightweight electric energy and enabling the aircrafts unprecedented endurance. Working closely with Silent Falcon, we have demonstrated a product specific to their needs and specifications, as well as assisting them in related power management technologies. We are honored to be the supplier chosen for the production vehicles."
In 2012 SFUAS selected ASTI to be a development partner and provide the solar cells on the Silent Falcon™ wings. The ASTI flexible PV technology is covered by numerous patents and represents the only flexible CIGS technology in production using monolithic integration for greater design flexibility and inherent durability.
"Customer flight demonstrations are underway today. We believe Silent Falcon UAS has a large and growing military and international commercial market. Sales exceeding several hundred units per year are possible. Customers now have access to the remarkable capability of the Silent Falcon UAS for the first time," said George Bye, Chairman of Silent Falcon UAS and CEO of Bye Aerospace.
ABOUT ASCENT SOLAR TECHNOLOGIES, INC.:
Ascent Solar Technologies, Inc. is a developer of thin-film photovoltaic modules using flexible substrate materials that can transform the way solar power generation integrates into everyday life. Ascent Solar modules were named as one of the top 100 technologies in 2010 by R&D Magazine, and one of TIME Magazine's 50 best inventions for 2011. This product can be directly integrated into consumer products and off-grid applications, as well as aerospace and building integrated applications. More information can be found at www.ascentsolar.com.
ABOUT SILENT FALCON UAS TECHNOLOGIES:
Silent Falcon UAS Technologies was established to develop patent-pending, state-of-the-art sUAS and sUAS sensors for the commercial, public safety and military ISR markets. The company is headquartered in Albuquerque, N.M. For more information, go to www.SilentFalconUAS.com.
ABOUT BYE AEROSPACE, INC.:
Bye Aerospace, founded in 2007 and headquartered near Denver, is applying clean energy solutions to innovative aircraft designs for the general aviation and defense markets. For more information, go to www.ByeAerospace.com.
Featured Product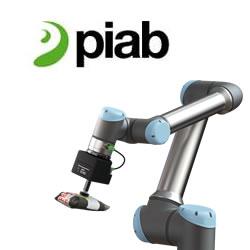 Piab's Kenos KCS gripper enables a collaborative robot to handle just about anything at any time. Combining Piab's proprietary air-driven COAX vacuum technology with an easily replaceable technical foam that molds itself around any surface or shape, the gripper can be used to safely grip, lift and handle any object. Standard interface (ISO) adapters enable the whole unit to be attached to any cobot type on the market with a body made in a lightweight 3D printed material. Approved by Universal Robots as a UR+ end effector.