A long standing leader in developing small unmanned aircraft systems, Draganfly Innovations expands to provide an array of aerial services throughout North America.
Saskatoon, SK April 10, 2015

Draganfly Innovations Inc., a leader in developing small Unmanned Aircraft Systems (sUAS) for over 15 years is awarded an FAA Section 333 Exemption and Certificate of Authorization (COA) to operate commercially and conduct research in the United States.
The exemption covers the Draganflyer X4-P, Draganflyer X4-ES, Draganflyer X6, and Draganflyer Guardian aircraft for use in aerial data collection such as mapping, agriculture, surveying, aerial photography, and inspections.
Draganfly systems originally introduced in 1999 have evolved and shaped the UAV industry. The aircraft are widely used by Public Safety Agencies worldwide and one of the first sUAS systems to receive an FAA COA in the fall of 2009 with the Mesa County Colorado Sheriffs Office. In 2012 the Royal Canadian Mounted Police (RCMP) flew the X4-ES system to locate and save the life of an accident victim. The RCMP system is being placed on permanent display at the Smithsonian National Air and Space Museum.
As the industry evolves, the FAA Section 333 exemption process is critical as Draganfly takes steps to further expand their reach, conducting U.S. research and offering a broad range of aerial services throughout North America.
About Draganfly Innovations:
Draganfly Innovations, the longest running manufacturer of multi-rotor helicopters in the world and the maker of the first civilian small Unmanned Aerial System (sUAS) to be credited with saving a life, designs Draganflyer helicopters, the best aerial vehicles in the world, along with Draganview control software. A recognized technology and industry leader, Draganfly shapes the aerial imaging and public safety revolution with its gyro stabilized camera payload systems and digital video down-link technology. Draganfly has reinvented the Unmanned Aerial Vehicle and is defining the emergency services market with the Draganflyer Guardian and Draganflyer X4-ES systems.
For additional information, contact Draganfly Innovations Inc. at 1-800-979-9794, sales(at)draganfly(dot)com, or check out their website at http://www.draganfly.com.
Featured Product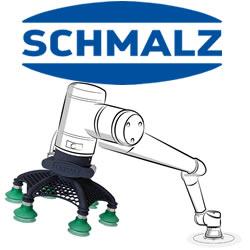 In order to interact with their environment and perform the tasks, lightweight robots, like all industrial robots, depend on tools - and in many cases these are vacuum grippers. These form the interface to the workpiece and are therefore a decisive part of the overall system. With their help, the robots can pick up, move, position, process, sort, stack and deposit a wide variety of goods and components. Vacuum gripping systems allow particularly gentle handling of workpieces, a compact and space-saving system design and gripping from above. Precisely because the object does not have to be gripped, the vacuum suction cupenables gapless positioning next to each other.