UL Celebrates Five Years as official FIRST Safety Alliance Partner
MANCHESTER, N.H.--FIRST (For Inspiration and Recognition of Science and Technology), a not-for-profit K-12 organization founded by inventor Dean Kamen to inspire young peoples interest and participation in science and technology, today announced that Qualcomm Incorporated will return as Presenting Sponsor for the 2015 FIRST Championship being held at the Edward Jones Dome in St. Louis, April 22-25.

"We are very grateful to Qualcomm for its continued support and return as Presenting Sponsor for the 2015 FIRST Championship," said FIRST President, Donald E. Bossi. "Qualcomms belief in the FIRST mission, and its dedication to the execution of that mission, is helping us to develop the next generation of innovators. Thanks to organizations like Qualcomm and the rest of the FIRST Championship Sponsors, we are able to deliver this life-changing event to students around the world."
UL has been the official FIRST Safety Alliance Partner since 2009. Its contributions include 2,500+ volunteer hours as onsite Safety Advisers at FIRST® Robotics Competition (FRC) events and the "Safety Animation Award" which recognizes the best depiction of an FRC teams safety focus via a short animated film.
This year, over 17,000 students will participate at the FIRST Championship. With the support of FIRST Sponsors, it promises participating teams and spectators alike an exciting, action-packed, once-in-a-lifetime experience that has all the heart-pounding thrills and team spirit of a professional sporting event.
"We believe these amazing students are the inventors, scientists and thought leaders of the future, which is why we are excited to continue our support of FIRST," said Matt Grob, executive vice president, Qualcomm Technologies, Inc. and chief technology officer. "By bringing Qualcomms expertise in mobile and robotics to these young women and men, we aim to increase their interest in STEM related fields and support them to achieve their goals leveraging the power of the mobile technologies in their pocket."
2015 FIRST Championship Program Sponsors include: Energizer Holdings, Inc.; FedEx Corporation; Center for Energy Workforce Development (CEWD); Google; Monsanto; NRG Energy; U.S. Air Force; United Technologies Corporation (UTC).
Other 2015 FIRST Championship Sponsors include: Abbott Fund; Bechtel Corporation; The Boeing Company; BOSCH; The Coca-Cola Company; Comcast NBCUniversal; The Dow Chemical Company; Dr. William H. Danforth; Edward Jones Foundation; I Am Jane; INCOSE; Microsoft Corporation; Mouser Electronics; Nidec Motor Corporation; NVIDIA; Rockwell Automation; Scottrade, Inc.; Southwest Airlines; SpaceX; St. Louis Regional Chamber; Trio Foundation of St. Louis; UL; Vulcan Spring & Manufacturing Co.; Wells Fargo Advisors.
The FIRST Championship, which is projected to bring in more than 30,000 spectators and students, has an estimated economic impact of $30 million to the St. Louis area. The city has hosted the Championship since 2011. The international event showcases student teams from FIRST Robotics Competition for students in grades 9-12; FIRST Tech Challenge (FTC) for grades 7-12; FIRST LEGO League (FLL) for grades 4-8; and Junior FIRST LEGO League (Jr.FLL) for grades K-3.
Save the date! The FIRST Championship will be held in:
St. Louis April 27-30, 2016 | Houston April 19-22, 2017 and St. Louis April 26-29, 2017 | Houston April 18-21, 2018 and Detroit April 25-28, 2018
About FIRST
Accomplished inventor Dean Kamen founded FIRST (For Inspiration and Recognition of Science and Technology) in 1989 to inspire an appreciation of science and technology in young people. Based in Manchester, N.H., FIRST designs accessible, innovative programs to build self-confidence, knowledge, and life skills while motivating young people to pursue opportunities in science, technology, and engineering. With support from over 200 of the Fortune 500 companies and more than $20 million in college scholarships, the not-for-profit organization hosts the FIRST Robotics Competition (FRC) for students in Grades 9-12; FIRST Tech Challenge (FTC) for Grades 7-12; FIRST LEGO League (FLL) for Grades 4-8; and Junior FIRST LEGO League (Jr.FLL) for Grades K-3. Gracious Professionalism is a way of doing things that encourages high-quality work, emphasizes the value of others, and respects individuals and the community. To learn more about FIRST, go to www.usfirst.org.
Featured Product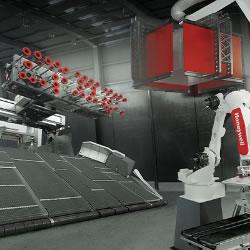 Honeywell Intelligrated is recognized by the Robotic Industries Association (RIA) as a Certified Robot Integrator, with more than a quarter-century of experience providing single-source robotic solutions for high-performance distribution and manufacturing operations. From system concepting, simulation, fabrication and integration to installation and commissioning, training and ongoing support, each solution is approached with a comprehensive lifecycle view to maximize the value of your system.