MakerBot PrintShop Version 1.5 with MakerBot Shape Maker Brings Drawings to Life in 3D with Easy to Use, No Design Experience Necessary
BROOKLYN, N.Y.--MakerBots popular free iPad app MakerBot PrintShop version 1.5 is now available for update in the iTunes App Store and offers a brand new feature called MakerBot Shape Maker that takes drawings and sketches and instantaneously turns them into 3D printable files. With the snap of a photo and a touch of a finger, MakerBot PrintShop Shape Maker allows users to easily and quickly transform sketches, photos and screen captures into a 3D printable file, without any 3D design experience. Designed for beginners who want to get started quickly with 3D printing, MakerBot PrintShop with Shape Maker is what MakerBot believes to be an exiting new tool that will transform the way we move from 2D to 3D.

"Our goal with the MakerBot PrintShop app is to make 3D printing more accessible and empower anyone to easily create 3D designs," noted Joey Neal, chief experience officer with MakerBot. "All it takes is a pen and a piece of white paper to create a drawing that can then be 3D printed using the new MakerBot Shape Maker feature. If you can draw a sketch, you can use MakerBot Shape Maker to transform your creations from the flat 2D world of pen and paper to the exciting 3D world of 3D printing."
Joey Neal also noted that the Shape Maker feature in MakerBot PrintShop is a great tool for teachers and students to use in the classroom. The free app removes the barriers for students to get started with 3D printing and can be a gateway into STEM (science, technology, engineering and mathematics) education. For art students, Shape Maker can bring creative projects to life in 3D and offer new perspectives on how to create objects.
How it Works
Shape Maker on MakerBot PrintShop is easy to use. Just open the MakerBot PrintShop iPad app, select Shape Maker and snap a photo with the iPads camera of a drawing or an item that has a distinct contrast and simple lines in its design. Use the slider tools to select the areas of the drawing to 3D print and scale; when all of the items or lines that are to be 3D printed turn green, choose a background select print or save right from the screen. Files saved will be accessible in the MakerBot Cloud Library and can be accessed through personal accounts on Thingiverse.com, the worlds largest 3D design destination for viewing, sharing and 3D printing digital designs. Files printed can be sent via Wi-Fi directly to a MakerBot Replicator Desktop 3D Printer, MakerBot Replicator Mini Compact 3D Printer or a MakerBot Replicator Z18 3D Printer. For those that want to change the size of their finished print, it is recommended that the item be accessed via MakerBot Desktop for sizing and scaling to fit the 3D printer that is being used. To see Shape Maker for MakerBot PrintShop in action, visit vimeo.com/makerbot.
"Its really a simple, easy and intuitive 3D design tool," noted Neal. "We are excited to see what is designed and 3D printed with MakerBot Shape Maker. For example, students of all ages, artists, cartoonists and even parents that want to preserve their childrens artwork will be amazed at the simplicity and ease of use with this app."
MakerBot is a global leader in the desktop 3D printing industry and was one of the first companies to make 3D printing accessible and affordable. MakerBot now has one of the largest installed bases and market shares of the desktop 3D printing industry, with more than 80,000 MakerBot Desktop 3D Printers in the world and a robust MakerBot 3D Ecosystem that combines hardware, software, apps like MakerBot PrintShop and MakerBot Mobile, materials, training, support, consulting, retail stores, partnerships and Thingiverse, the worlds largest online community for 3D printing, in order to make 3D printing easy and accessible for everyone. MakerBot Desktop 3D Printers are used by engineers, architects, designers, educators and consumers to enhance education and transform the design process through Real-Time Prototyping.
MakerBot PrintShop is a free app available in iTunes for download on an iPad. MakerBot Shape Maker also comes free with the MakerBot PrintShop 1.5 update. For more information on MakerBot PrintShop, visit makerbot.com/printshop. For more information on MakerBot and the whole MakerBot 3D Ecosystem that is designed to make 3D printing easier and more accessible, visit makerbot.com.
About MakerBot
MakerBot, a subsidiary of Stratasys Ltd. (Nasdaq:SSYS), is leading the Next Industrial Revolution by setting the standards in reliable and affordable desktop 3D printing. Founded in 2009, MakerBot sells desktop 3D printers to innovative and industry-leading customers worldwide, including engineers, architects, designers, educators and consumers. To learn more about MakerBot, visit makerbot.com.
Featured Product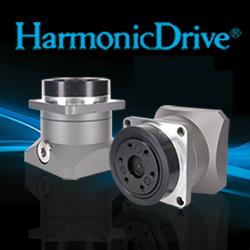 Harmonic Drive LLC, a leader in high precision motion control introduces new lightweight versions of select gearhead products. The new gearheads are ideal for designs where weight is a critical factor. Building on the success of Harmonic Drive LLCs current gear units, new lightweight versions were the next logical evolution of the CS/ SH product lines. With weight reductions of 20-30% without any reduction in torque ratings, the Lightweight (LW) gear units provide exceptional torque density.