Danish robot manufacturer Universal Robots achieved a spectacular growth in the 2014 annual result just published; Revenue increased an astounding 70 percent reaching more than 36M USD with profit more than doubling to 5M USD.
Odense, Denmark, April 16, 2015: With yet another record setting result, Universal Robots is on track to meet the goal of doubling turnover each year in the period from 2014 to 2017. CEO Enrico Krog Iversen is pleased that Universal Robots has been able to sustain the high, profitable growth in 2014:

"The first quarter of 2015 is also off to a great start, promising another year of strong growth. This year, we focus on creating volume in the sales of our new small table-top robot UR3, which was received with overwhelming interest by industry at our launches at trade shows in Shanghai and Chicago in March, and this week at the Hannover Fair."
Management at Universal Robots maintains its strategic plan of targeting one billion Danish crowns in revenue in the 2017 financial statements (153M USD). This will be achieved by investing in the development of new products as well as the marketing and sales of these.
New offices and an increase in staff
Global growth will also be supported by a stronger regional presence. It is important for Universal Robots that both distributors and end customers never experience the robot manufacturer as being far away. Numerous new regional offices will open in 2015, including the Mid-West and West Coast regions of the U.S., in South America, as well as in several European locations, ensuring that sales and technical support is always available in the same time zone.
"We hired 50 new employees during 2014. In 2015, we expect to add an additional 50 new colleagues, divided between the head office in Odense and our regional offices," says Enrico Krog Iversen.
About Universal Robots
Universal Robots is a result of many years of intensive research in robotics. The product portfolio includes the collaborative UR3, UR5 and UR10 robot arms named after their payloads in kilos. Since the first UR robot entered the market in December 2008, the company has seen substantial growth with the user-friendly robot arms now being sold in more than 50 countries worldwide. Average payback period for UR robots is the fastest in the industry with only 195 days. The company is headquartered in Odense, Denmark, where all development and production is carried out. Universal Robots global sales target is a doubling of revenue every year from 2014 to 2017.
www.universal-robots.com
Featured Product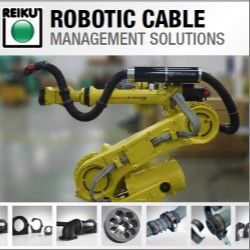 REIKU's Cable Saver™ Solution eliminates downtime, loss of revenue, expensive cable and hose replacement costs, maintenance labor costs. It's available in three sizes 36, 52 and 70 mm. All of the robots cables and hoses are protected when routed through the Cable Saver™ corrugated tubing.The Cable Saver™ uses a spring retraction system housed inside the Energy Tube™ to keep this service loop out of harms way in safe location at the rear of the Robot when not required. The Cable Saver™ is a COMPLETE solution for any make or model of robot. It installs quickly-on either side of the robot and has been tested to resist over 15 million repetitive cycles. REIKU is committed to providing the most modular, effective options for ensuring your robotic components operate without downtime due to cable management. www.CableSaver.com