Dimensional Control Systems will highlight the benefits of using automated process capability analyses to improve quality assurance of major aerospace components throughout the product life cycle in order to reduce costs of quality stemming from scrap, rework and non-conformances.
Apr 17, 2015 -- Dimensional Control Systems (DCS) will be presenting "Quality Assurance of Major Aerospace Components through Automated Process Capability Analysis" at the 2015 AeroDef Manufacturing and Composites event at the Hilton Anatole, Dallas Texas April 20 -23. This presentation showcases how aerospace OEMs and suppliers can use process capability indices to monitor their manufacturing across the entire product life cycle, and highlight methods of automating the reporting and analysis throughout the process.

AeroDef 2015 brings together leaders from aerospace OEMs, suppliers and potential partners to meet the challenge of increasing demand: both in number and technical level of the aircraft. With hundreds of aerospace and defense manufacturing solutions being presented in technical sessions and discussions, industry professionals will be able to share their experience and learn from other experts in the field.
DCSs Vice President of Sales, Donald Jasurda, will be presenting the technical session "Quality Assurance of Major Aerospace Components through Automated Process Capability Analysis" on Tuesday April 21st at 2 pm as part of the Quality, Measurement & Inspection track. The presentation focuses on automating and connecting through feedback loops previously separate processes in aircraft production. By connecting these processes and creating easy to understand outputs, quality professionals can track and understand their process capability at any stage in the manufacturing process, quickly finding and solving problems as they arise.
"AeroDef gives us the opportunity to meet with aerospace companies from across the industry, from parts suppliers to major OEMs, and collaborate with other professionals in industry how to meet the rising challenges of increased demand and higher quality expectations," said Jasurda. "The need for advanced modern aircraft is increasing, and companies are looking for ways to reduce costs without negatively impacting quality. As a quality assurance company, we look forward to sharing our findings with other professionals, and learning how they are addressing the issues of complex assemblies and demanding quality standards."
Join DCS at this years AeroDef event or join us afterwards for a follow-up webinar discussing the case study presentation. You can learn more by visiting http://blog.3dcs.com/dcs-presents-automated-process-capability-analysis-aerodef-2015.
About DCS
DCS has been supporting quality management in industries including automotive, aerospace, medical device, electronics and industrial machinery for over 20 years. DCS solutions are used daily by companies like Airbus, BMW, GM, LG, Nissan, Phillips, Sony, Textron Aviation and VW. By applying DCS's 3D Model Based environment for Predictive Variation Analysis and Responsive SPC, manufacturers have reduced quality costs related to yield, scrap, rework and warranty issues. Read more at www.3dcs.com.
Featured Product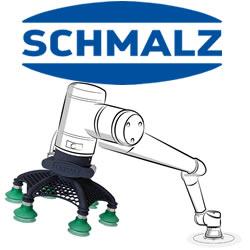 In order to interact with their environment and perform the tasks, lightweight robots, like all industrial robots, depend on tools - and in many cases these are vacuum grippers. These form the interface to the workpiece and are therefore a decisive part of the overall system. With their help, the robots can pick up, move, position, process, sort, stack and deposit a wide variety of goods and components. Vacuum gripping systems allow particularly gentle handling of workpieces, a compact and space-saving system design and gripping from above. Precisely because the object does not have to be gripped, the vacuum suction cupenables gapless positioning next to each other.