THE BIG M event, taking place in Detroit at the Cobo Center, June 2-4, 2015.
DEARBORN, Mich., April 15, 2015 - SME announced new content focused on the future of manufacturing at THE BIG M event, taking place in Detroit at the Cobo Center, June 2-4, 2015. Registration is now open for attendees, exhibitors and media for THE BIG M, where attendees hold an estimated combined purchasing power of $5 billion.

SMEs THE BIG M offers expert keynotes, educational sessions and panels, as well an exhibit floor featuring new manufacturing technologies, hands-on experiences and experts from leading manufacturing brands. Event sponsors include the Michigan Economic Development Corp., Automation Alley, American Axle & Manufacturing, Siemens, ITC Holdings, GE and Plex Systems.
"THE BIG M team and our conference advisors have worked diligently to build content that will provide great value to attendees and empower us all to collaborate on shaping the future of manufacturing," said Christine Longroy, event manager at SME. "The event offers flexibility with unique packages to accommodate attendees needs."
Conference keynotes include future-focused expertise from leading organizations such as Google, ExxonMobil and Autodesk.
Transforming Your Manufacturing Business for the New Digital Age: Mike Walton, global head of manufacturing industry for Google for Work.
Next Generation Design for the Future of Manufacturing: Robert "Buzz" Kross, senior vice president of design, lifecycle and simulation for Autodesk.
The Outlook for Energy: A View to 2040: E. Nicholas Jones, energy advisor, corporate strategic planning for ExxonMobil Corp.
In addition, Josh Linkner, CEO of The Institute for Applied Creativity and author of "The Road to Reinvention," will highlight a systematic approach for continual challenge and reinvention from a business and personal standpoint.
Educational sessions in the conference program will enable attendees to discover real solutions for industry opportunities and challenges such as advanced manufacturing, cybersecurity, additive manufacturing and the skills gap. An SME study showed 64 percent of manufacturers said productivity losses are the result of a skills gap, while another 56 percent reported the gap has impacted their ability to grow. THE BIG M will feature manufacturing training content fueled by Tooling U-SME, the training division of SME, which has trained hundreds of thousands of representatives from more than 50 percent of Fortune 500 manufacturing companies.
The exhibit floor will offer attendees the opportunity to engage with new technologies and industry experts.
Hands-on experiences with new technologies through the M | Factories, which features a Modeling, Simulation & Visualization (MSV) Factory sponsored by Autodesk and Digital Factory sponsored by Siemens.
Discussion, networking and collaboration at the M | Exchange, which features workforce development solutions, the Advanced Materials Resource Center, highlighting lightweighting advancements.
Exhibitors from leading brands such as Seco Tools, Kubotek USA, Hexagon Metrology, Fisher/Unitech, Greenleaf and more.
Early-bird rates are in effect for registration until May 15, 2015. Interested parties can visit bigmevent.com/attend to review a variety of options and pricing for attending the event.
About THE BIG M
THE BIG M, produced by SME, is designed to convene manufacturers around industry's most vital issues and leverage the power of industry leaders to collaborate and address them. This event demonstrates that manufacturing professionals and companies can shape the future by creating a strong path forward together, connecting people with technology and expertise, affirming the importance of manufacturing, speaking in a unified voice to policymakers and proving that manufacturing is a knowledge industry where creativity is sought and valued. Follow @bigMevent on Twitter or facebook.com/bigmevent.
About SME
SME connects all those who are passionate about making things that improve our world. As a nonprofit organization, SME has served practitioners, companies, educators, government and communities across the manufacturing spectrum for more than 80 years. Through its strategic areas of events, media, membership, training and development, and the SME Education Foundation, SME is uniquely dedicated to the advancement of manufacturing by addressing both knowledge and skills needed for the industry. Follow @SME_MFG on Twitter or facebook.com/SMEmfg.
Featured Product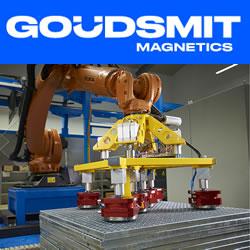 Magnetic robot end-of-arm tooling are suitable for the automated pick-up and positioning of steel or other ferromagnetic objects. They can be switched on and off and have a threaded mounting hole for robots. Magnetic grippers are an efficient alternative for traditional robot grippers. Application in automated production lines and for robots and pick-and-place systems. Magnetic product handling reduces the duration and number of operations. Goudsmit Magnetics is driven by magnetism since 1959. See how it works: https://youtu.be/hcXJ98mXHZE