Introducing the most significant exhibition in the development of 3D printing technology this July in Shanghai ----An industry leader, the 3D Printing Exhibition will feature new business models with enormous potential ----The show will consider closely the needs of exhibitors and buyers to facilitate onsite sales transactions ----It will be held alongside interesting concurrently run activities that create an unmissable and comprehensive info-sharing platform
The China (Shanghai) International 3D printing Exhibition 2015 (also known as "3D Printing China (Shanghai)") will run from July 7 to July 9 at the Shanghai New International Expo Center. This is the fourth edition of the exhibition and the first time it is organized by Reed Exhibitions Kuozhan — a new joint venture between Shanghai Kuozhan Exhibition and Reed Exhibitions.

With Reeds extensive international resources and all-encompassing experience as the worlds largest exhibition, added to the powerful advantage of Kuozhans local knowledge, the combined exhibition area of 3D Printing China (Shanghai) and the 5th China (Shenzhen) International 3D Printing Exhibition (November) will far exceed that of previous years.
3D Printing China (Shanghai) will showcase 3D printing materials, equipment and complete 3D printers displayed by an expected 100+ product makers and service providers from the 3D printing sector. Additionally, about 5,000 professionals from the local and international 3D printing industry are expected to visit the show.
3D Printing China (Shanghai) will display the newest and most complete types of 3D printing materials, equipment and printers. The show will also feature multiple interesting forums to give participants from across the industry a fascinating 3D printing expo. It will be the largest, most professionally managed event in Chinas, and even Asias, 3D printing application industry.
The exhibition organizers are already working with 50 print and online media and have won support from 18 international industry associations for 3D printing and its related fields. Before, during or after the exhibition, the media and industry associations will disseminate up-to-date exhibition information through print, via online portals, meetings and journals shared with companies and investors working in sectors interested in 3D printing technology.
An Industry Leader, 3D Printing Exhibition to Usher In New, High-Potential Business Models
3D printing technology, or "additive manufacturing", is a kind of digitalized manufacturing technology that builds up components or products by adding materials layer upon layer. This is in contrast to using traditional subtractive manufacturing methods. This technology allows components or products to 'mature instead of being produced by removing unwanted raw materials (through machining).
Industry insiders are calling this the 'third industrial revolution. According to a recent annual report produced by Wohlers, a US-based independent consulting firm, the industrial grade 3D printing market continues to see sound growth. In 2014, the 3D printing equipment and services market was valued at USD 2.2 billion, up 29% from 2013 when the value was USD 1.7 billion. With industrial grade 3D printing taking an ever-larger market share, 3D printing is becoming increasingly specialized.
3D printing is leading the next industrial revolution and manufacturers have begun to make products and components with it. Combined with different industries, this can inspire the creation of an endless number of applications. It leaves unlimited space for innovation and aspiration for the future of 3D printing technology.
Against this backdrop, the organizers of 3D Printing China (Shanghai) are confident in the 2015 event. "We strive to grow with the industry and consider it a mission and a duty to do so", said Mr. Fei Xiong, Sales Director of Reed Kuozhan. "This year, 3D Printing China (Shanghai) will do its best to help international and local companies find the best business model to develop the 3D printing industry in the local market. We will do our utmost to deliver a professional, systematic and thorough model to set up the most valuable 3D industry technology display and info-sharing platform for businesses in this industry."
Focused on the Needs of Exhibitors and Buyers to Facilitate Onsite Sales Transactions
At previous exhibitions, exhibitors demonstrated how human figures, gifts, moulds and other articles were made using 3D technologies. This created a great deal of buzz onsite, increased interaction among visitors and boosted exhibitors popularity among industry peers. The 2014 exhibition attracted the industrys leading companies, including Shanghai Union Technology, Z Rapid Technologies, XYZ Printing (Suzhou), Trustworthy (Beijing) Technology, Xery 3D Printing Science and Technology (Anhui) Inc., Wanlida Technology and Beijing Neo Leaf Technology Development.
The exhibition showcased the 3D technologies used in industrial designing, machinery manufacturing, aerospace, military equipment, medicine, jewelry manufacturing, mould making and fashion, film, architectural and creative design. Nearly 10 orders were concluded daily onsite as exhibitors had the advantage of being able to make complex components in one-step and provide innovative 3D product printing technologies and services there.
The organizers believe that 3D Printing China (Shanghai) 2015 will be a way for industry players to learn about the latest 3D technologies and information from around the world. It will also be a platform for effective learning, experience and trade. This years exhibition will continue the success of previous installments, to be the highest-standard commercial and trade platform with top quality participants.
Fascinating Concurrently Run Activities and an Unmissable Information Platform
During 3D Printing China (Shanghai) 2015, the event organizers and related industry bodies will present a series of highly professional and innovative activities that include the China International 3D Printing Technology Summit Forum, 3D Printed Gift Show and the 3D Printed Product Creativity Show. Presentations of new designs and business models, as well as 3D Printing Equipment Interaction Day are among other show highlights.
These engaging activities will create great opportunities for participants to meet industry elites, expand their business networks and find the right trade partners quickly and effectively.
For more information, please visit www.3dchinaexpo.com
Click here to pre-register: https://ali2.infosalons.com.cn/vscenter/visitor/login.aspx?f=BA6D0637-9FDD-4DBF-8057-0A16D5603497
Featured Product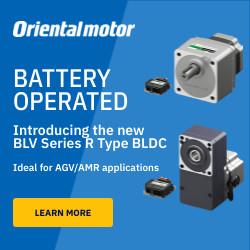 The BLV Series R Type brushless DC motor (BLDC motor) speed control system offers the design of motor and driver significantly reduced in size and weight, yet high-power, and contributes to the battery driven automation. The BLV Series R Type is compatible with the two interfaces of Modbus (RTU) and CANopen communication.