ITS Manufacturing, Inc., one of the fastest growing CNC companies in the Mid-Atlantic, has received AS9100C certification.
Crewe, Virginia April 27, 2015

ITS Manufacturing, Inc., a CNC machining company located in Crewe, Virginia, has announced the successful completion of an AS9100 REV C audit resulting in its 36,000 square foot facility achieving AS9100C certification. The company specializes in the manufacturing of parts for customers that require a higher degree of precision and fine detail.
"We have invested fervently in the systems needed to be the premiere precision CNC manufacturer in the Mid-Atlantic," said Founder & COO Trace Shook, "AS9100C certification validates our organizations quality management system and best practices for the production of mission-critical CNC products."
The companys quality system includes a continuous quality improvement program and an increased focus on supply chain management for the delivery of CNC components and parts. Details are available at http://www.itsmanufacturing.com/quality/.
AS9100C is the international quality management certification based upon ISO 9001 and is offered only to organizations that design, develop and produce aviation, space and defense products with strict adherence to quality, reliability and safety standards. All major aerospace regulators, including the U.S. Department of Defense (DoD), Federal Aviation Administration (FAA), and the National Aerospace and Space Administration (NASA), endorse AS9100C standards. The AS9100C audit was conducted by International Standards Authority, Inc., an ANAB certified third-party registrar.
In 2014, ITS Manufacturing, Inc. was the fastest growing CNC company in Virginia. The company fabricates metal and plastic CNC products for the high-tech bioscience, aerospace, textile, dental, medical, automotive, military, and food service industries in their Crewe, Virginia, machine shop. The ITS facility features high precision CNC centers that include horizontal and vertical milling, 4-axis milling, and X, Y & Z axis turning. The companys CNC centers feature high-capacity capabilities, enabling the machining of oversized parts. The company handles both high volume runs as well as small runs and prototyping.
Featured Product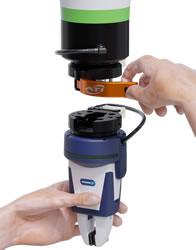 Simpler, stronger, and more precise. ATI Industrial Automation has developed a series of Manual Tool Changers that provides a cost-effective solution for quickly changing tools by hand. They feature a unique design that combines high strength, excellent repeatability, and a patent-pending screw-cam locking mechanism with multiple fail-safe features, which resists vibration and prevents loosening. These robust and compact Manual Tool Changers can handle payloads up to 80 pounds (36 kg) and pass pneumatics and electrical signals.