ITS Manufacturing, Inc., one of the fastest growing CNC companies in the Mid-Atlantic, has received AS9100C certification.
Crewe, Virginia April 27, 2015

ITS Manufacturing, Inc., a CNC machining company located in Crewe, Virginia, has announced the successful completion of an AS9100 REV C audit resulting in its 36,000 square foot facility achieving AS9100C certification. The company specializes in the manufacturing of parts for customers that require a higher degree of precision and fine detail.
"We have invested fervently in the systems needed to be the premiere precision CNC manufacturer in the Mid-Atlantic," said Founder & COO Trace Shook, "AS9100C certification validates our organizations quality management system and best practices for the production of mission-critical CNC products."
The companys quality system includes a continuous quality improvement program and an increased focus on supply chain management for the delivery of CNC components and parts. Details are available at http://www.itsmanufacturing.com/quality/.
AS9100C is the international quality management certification based upon ISO 9001 and is offered only to organizations that design, develop and produce aviation, space and defense products with strict adherence to quality, reliability and safety standards. All major aerospace regulators, including the U.S. Department of Defense (DoD), Federal Aviation Administration (FAA), and the National Aerospace and Space Administration (NASA), endorse AS9100C standards. The AS9100C audit was conducted by International Standards Authority, Inc., an ANAB certified third-party registrar.
In 2014, ITS Manufacturing, Inc. was the fastest growing CNC company in Virginia. The company fabricates metal and plastic CNC products for the high-tech bioscience, aerospace, textile, dental, medical, automotive, military, and food service industries in their Crewe, Virginia, machine shop. The ITS facility features high precision CNC centers that include horizontal and vertical milling, 4-axis milling, and X, Y & Z axis turning. The companys CNC centers feature high-capacity capabilities, enabling the machining of oversized parts. The company handles both high volume runs as well as small runs and prototyping.
Featured Product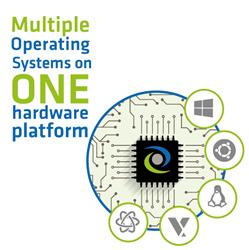 The RTS Hypervisor enables work-load consolidation of both real-time and non-real-time operating systems on a single x86 based platform. Unlike traditional virtualization, we partition and allocate the hardware for each work-load and provide a "privileged" mode for real-time operating systems that guarantee zero impact to determinism while adding zero jitter. This is instrumental for work-loads such as robotic controllers managing motion control where minimum jitter is required. And, our hypervisor is designed for easy setup and configuration for any work-load consolidation scenario. This equates to deterministic real-time applications taking advantage of all the benefits of virtualization immediately, without costly implementation projects.