May 4-7 in Atlanta www.auvsishow.org
ATLANTA, April 27, 2015 -- For more than four decades, AUVSI's Unmanned Systems conference and trade show has been the premier worldwide event for the unmanned land, sea, and air industries. Unmanned Systems 2015 is a must-attend event for any local, national, or trade news organization interested in gathering valuable insight into the emerging commercial markets and current applications of unmanned technologies. The conference will explore the opportunities and innovations of this projected $48 billion industry, and how it will soon impact the lives of people at home and across the globe. And, as always, members of the press may register for complimentary access to all events.

With more than 8,000 attendees from around the world, the event will include three days of interactive exhibits and exciting demonstrations of air and ground vehicles spread throughout 350,000 square feet of exhibit space. The 200-plus educational sessions, workshops, and panel presentations will focus on the future of commercial, humanitarian, environmental, governmental, and military applications for robotics and unmanned systems. Daily programming highlights include:
Monday, 4 May
Programming begins at 1:00 p.m.
Highlighted Sessions:
* Commercial UAS Operations: Section 333, NPRM and What the Latest Airspace Regulations Mean to You
* Making the Most of Big Data
Tuesday, 5 May
General Session: 9:00 a.m. - 10:15 a.m.
Exhibit Hall Hours: 10:15 a.m. - 5:30 p.m.
Highlighted Events:
Visionary Commercial UAS panel discussion at the general session, featuring:
* Colin Guinn — In addition to being this year's general session host, Colin serves as chief robotics officer for 3D Robotics and was a co-founder and CEO of DJI North America. He is one of the most recognizable faces in the world of UAS technology, having been featured in top-rated publications such as 60 Minutes, Tech Crunch, and Fast Co.
* Dave Vos — An Ernst and Young "Entrepreneur of the Year" winner, Dave is one of the most accomplished senior leaders in the aviation and unmanned systems industry. Before being appointed to his current position as project lead for Project Wing @ GoogleX, Google's new UAS delivery service, Dave served on NASA's Unmanned Systems Advisory Committee, the FAA UAS Rulemaking Committee for Integration of Unmanned Aircraft into the National Airspace System, and as CEO of Athena Technologies.
* David Vigilante — A world class attorney and recipient of the Edward R. Murrow Award for writing, David serves as senior vice president for the legal division of CNN and general counsel for Turner Broadcasting System, Inc.
* Helen Greiner — Named by President Obama as a Presidential Ambassador for Global Entrepreneurship (PAGE), Helen co-founded iRobot where she oversaw global successes such as the Roomba vacuuming robot and the PackBot. She is now CEO of CyPhy Works, one of the most promising startup companies designing and delivering innovative aerial robots.
* Emerging Commercial Markets Workshop - Information, Opportunities and Insights for Your Business - featuring speakers from the FAA and around the industry.
* AUVSI's Unmanned Shark Tank — AUVSI has brought together investors from different firms across the country to discuss the "ins and outs" of getting new companies and ideas funded. During the session, entrepreneurs will have the opportunity to pitch their ideas and receive feedback from the panel.
Wednesday, 6 May
General Session: 9:00 a.m. - 10:15 a.m.
Exhibit Hall Hours: 10:15 a.m. - 5:30 p.m.
Highlighted Events:
* Congressional Address by Congressman Frank LoBiondo — Member and former Chairman of the House Transportation & Infrastructure Committee, Rep. LoBiondo currently serves as the chairman of the subcommittee on aviation.
* Keynote: Dr. Hugh Herr — Hailed by TIME magazine as the "Leader of the Bionic Age," Dr. Herr will share his personal journey to becoming a leader in the emerging field of biomechatronics. Dr. Herr is an MIT professor and head of biomechatroinics at the MIT Media Lab.
* Special Session: The Coming Impact of UAS on the News Industry
* Emerging Commercial Markets: UAS for the Oil and Gas Industry
* Unmanned Aircraft and Their Use in Processing Crime Scenes
*** Special Announcement from AUVSI President and CEO Brian Wynne — You Don't Want to Miss this Glimpse into the Future *** 10:00 a.m. General Session.
* SPECIAL PRESS EVENT: Federal Aviation Administration (FAA) will present two major press conferences on Wednesday morning after the general session.
Thursday, 7 May
General Session: 9:45 a.m. - 10:45 a.m.
Exhibit Hall Hours: 10:45 a.m. - 4:00 p.m.
Highlighted Events:
* Keynote: Dr. Henrik I. Christensen — Author of more than 300 contributions in the areas of computer vision and artificial intelligence, Dr. Christensen serves as the KUKA Chair of Robotics and a Distinguished Professor of Computing at Georgia Tech.
* The Syria Airlift Project: UAVs for Humanitarian Relief
* Integration of UAVs into the National Aerospace System
For the latest news and announcements from around the industry visit our Exhibitor Press Releases and our Virtual Press Office.
For more information on all the exciting sessions please visit AUVSI's Program Planner.
The Association for Unmanned Vehicle Systems International (AUVSI) — the world's largest nonprofit organization dedicated to the advancement of unmanned systems and robotics — represents more than 7,500 individual members and over 600 corporate members from 55 allied countries and 2,500 organizations involved in the fields of government, industry and academia.
Featured Product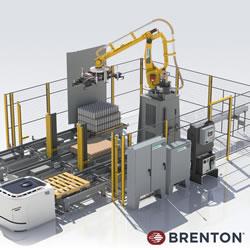 Brenton is a leader in robotic solutions with standard product offerings including palletizing and depalletizing for efficient an option for carrying hard-to-handle products, as well as larger scale systems with an optimized footprint; and case and carton loading solutions for numerous industries. In addition, Brenton works with customers on integrated solutions, offering robotics in a broad spectrum of robotics to fully integrate end of line systems. Brenton helps packaging customers protect their reputation and grow the trust of their consumers.