Complex sensor assemblies can be reduced, simplified and integrated less expensively with modern membrane potentiometers
April 29, 2015 - Frisco, TX -

This new whitepaper introduces the advantages and disadvantages of the membrane potentiometer's special design, and also outlines its possible applications including industrial controls, robotic systems, forklifts, doors and gates, and even gaming. This essential guide for design engineers also covers the important technical parameters of membrane potentiometers including the various types such as PET, Kapton, magnetic and hybrid.
Because of its ultra-flat design and flexible usage, combined with cost advantages, the membrane potentiometer has opened up a wide range of sensing possibilities which were previously not possible. By using new and innovative materials like magnetic operations or hybrid membrane potentiometers, designers and engineers can integrate this potentiometer in many ways. Complex sensor constructions can be reduced, simplified and integrated less expensively with modern membrane potentiometers.
This new whitepaper, The Membrane Potentiometer - A Competitive Alternative to Traditional Linear and Rotary Position Sensors, is available for download at http://www.hoffmann-krippner.com/pdfs/the-membrane-potentiometer-as-alternative-solution.pdf
Company Background
The Hoffmann + Krippner Group, with sales offices around the globe, specializes in input and output systems as well as sensors. Headquartered in Germany, Hoffmann + Krippner has manufactured German-engineered, high quality products for over 35 years. As the North American member of the Group, Hoffmann + Krippner, Inc. delivers these engineering, design and manufacturing services to the US and Canadian market.
As of 2014, Hoffmann + Krippner, Inc. has partnered with Altmann GmbH (manufacturer of high-precision potentiometers), Inelta GmbH (manufacturer of LVDT and load cells), and PIL GmbH (manufacturer of ultrasonic sensors).
Featured Product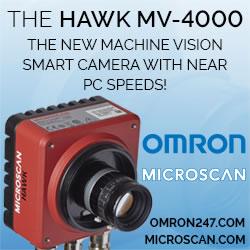 Awe-inspiring power and superior flexibility is sheathed within the contoured casing of the HAWK MV-4000. This smart camera builds upon the previous generation by quadrupling processing power and achieving real-time trigger response using an FPGA. Its state-of-the-art algorithms make it an excellent tool for any industry, whether the requirement be code reading, code verification, inspection, guidance, gauging or a combination of all four.