LIUCs MakerBot Innovation Center brings 3D printing and prototyping to students and enterprises to experience Digital Manufacturing
STUTTGART, Germany & CASTELLANZA, Italy--LIUC - Università Cattaneo recently signed an agreement on the first MakerBot Innovation Center in Italy. It is also the first MakerBot Innovation Center in Europe.

"We are excited about bringing the first MakerBot Innovation Center to Europe", said Alexander Hafner, General Manager with MakerBot Europe. "The opening of the MakerBot Innovation Center will represent a great chance to empower students, faculty and professionals to innovate, keep pace with developments and will prepare students for the business challenges of tomorrow".
The MakerBot Innovation Center for LIUC includes 20 MakerBot Replicator 3D Printers (three MakerBot Replicator Mini Compact 3D Printers, 12 MakerBot Replicator Desktop 3D Printers, five MakerBot Replicator Z18 3D Printers). The MakerBot Innovation Center Management Platform is the central aspect of the MakerBot Innovation Center. It helps to manage and link all 20 MakerBot Replicator 3D Printers, provides remote access, print queuing and mass production of 3D prints.
"MakerBot Europe is providing the consulting, technical support, and training needed to set up the MakerBot Innovation Center at LIUC. We are bringing in Energy group from Bentivoglio, our MakerBot Authorized Reseller Gold, to provide the 3D Printers and technical support for LIUC", said Dr. Jochen Zimmer, Director Professional Services with MakerBot Europe.
"From next year our Engineering students will have the chance to challenge their skills in designing and manufacturing prototypes in the context of simulated startups. The MakerBot Innovation Center will allow us to continue and develop the activities carried out by SmartUp, giving our students a concrete opportunity of hands-on experience with the next technologies of digital manufacturing, which are increasingly part of the everyday life of enterprises", said Prof Luca Mari, Director of SmartUp - Digital Manufacturing Laboratory and Professor in the School of Industrial Engineering of LIUC.
The companies of the Province of Varese are allied in the Unione degli Industriali della Provincia di Varese. The main goal of this union is to support the development and the growth of the member companies and the LIUC, that offers academic curricula in Management, Law and Engineering, was established through the sponsorship of this association. Furthermore, the MakerBot Innovation Center will be carried out with the help of the researchers of SmartUp - Digital Manufacturing Laboratory. SmartUp is a project with the goal to spread the culture of digital manufacturing and has been developed by the LIUC and the Unione degli Industriali della Provincia di Varese.
"This project", noted Samuele Astuti and Mauro Mezzenzana, Innovation Center Team Leaders, "is aimed at supporting companies that are moving toward product and process innovation in order to get new market opportunities in a highly competitive environment."
LIUC will hold its grand opening of the MakerBot Innovation Center in June and the university will welcome partners, teachers, students and their families for this big event. There will be courses for the LIUC students and also for entrepreneurs, technicians and professionals. Students and teachers of local schools will also have the chance to join several courses.
About MakerBot
MakerBot, a subsidiary of Stratasys Ltd. (Nasdaq:SSYS), is leading the Next Industrial Revolution by setting the standards in reliable and affordable desktop 3D printing. Founded in 2009, MakerBot has built the largest installed base of desktop 3D printers sold to innovative and industry-leading customers worldwide, including engineers, architects, designers, educators and consumers. To learn more about MakerBot, visit makerbot.com
MakerBot Europe GmbH & Co. KG is located in Stuttgart, Germany, and manages the sales and distribution of MakerBot products in Europe and supplies training and support for customers, resellers and distribution channels, as well as programs to integrate 3D printing in the education sector. MakerBot products are available throughout the whole world, including in 28 European countries. To learn more about MakerBot Europe, visit eu.makerbot.com or follow us on Facebook and Twitter.
About LIUC - Università Cattaneo
The LIUC - Università Cattaneo is situated in Castellanza, a small town in Northern Italy that lies 25 kilometers North West of Milan, close to the Malpensa International Airport. It is an independent university that has developed rapidly since it was established in 1991 by the Industrial Association of the Province of Varese (UNIVA) with the purpose of providing innovative higher education with a strong regional focus.
The teaching model at LIUC - Università Cattaneo is highly innovative and characterized by the links between economic, legal and technological aspects, in order to provide a unified view of a company with its functions and its problems. This means that today, in the Degree courses in Business Administration and Management there is an emphasis on technological dynamics, economic, organizational and strategic; in the Degree courses in Law, an emphasis on strong legal and economic characterization and broad international openness; and in the Degree courses in Industrial Engineering an emphasis on management methods and business economics.
The University is housed in a nineteenth century cotton mill which has been beautifully restored by the world famous Italian architect Aldo Rossi, winner of the Pritzker Prize. The mill, and the other buildings, including Villa Juker, are surrounded by over 90,000 square meters of green space, which includes the adjoining Parco LIUC.
Featured Product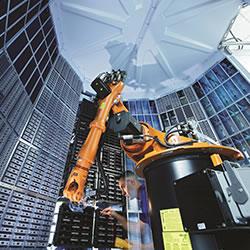 The industry's first comprehensive Robot Integrator Program saves robot integrators significant time and cost investments by allowing them to mark each cell compliant with ANSI/RIA R15.06 with the TUV Rheinland Mark. As opposed to a traditional certification or an on-site field labeling, TÜV Rheinland's Robot Integrator Program certifies the knowledge and skill-set of robot integrators in addition to testing robotic cells and processes against ANSI/RIA R15.06. This reduces the need for frequent onsite or off site testing and allows manufacturers to apply a single TÜV Rheinland label to multiple cells. The Robot Integrator Program individually assesses a robot integrator's understanding of the ANSI/RIA R15.06 standard along with the ability to consistently produce compliant robot cells. Following the requirements and procedures of the new program will enable robot integrators to produce individually compliant robotic cells under one serialized TÜV Rheinland Mark, which meets the national electric code and allows acceptance by Authorities Having Jurisdiction (AHJ) and end users.