TraceParts Enterprise 2015 Service Pack 1 offers numerous improvements in performance, reliability and usability
Saint-Romain, France, May 6, 2015 - TraceParts, a world-leading digital engineering 3D content company, has now released service pack 1 for its Supplier Parts Management software TraceParts Enterprise. This service pack focuses on improvements in performance, reliability and usability.

"The name says it: this release is a service pack. We added numerous smaller improvements, most of them resulting from inputs from users of our Try & Buy program", explains Alfred Schallert, Global Product Manager of TraceParts Enterprise.
"We are very pleased that our Try & Buy program for TraceParts Enterprise is well accepted by users from all over the world. Even though Supplier Parts Management can be a very complex issue, we see from numerous registrations, that many companies are interested to "play" with the system and gather their own experiences first", adds Alfred Schallert.
The Try & Buy program for TraceParts Enterprise offers the possibility to test the fully functional software for 30 days without any obligations. Every user works in his own TraceParts Enterprise test environment and is able to get familiar with Supplier Parts Management.
About TraceParts Enterprise
TraceParts Enterprise is a Supplier Parts Management Software, which gives companies total control over CAD models and technical information that their Design Team can use or re-use.
TraceParts Enterprise supports organizsations to reduce their parts diversity and lower the overhead costs.
For more information on TraceParts Enterprise, please visit http://www.traceparts.com/tpe/
About TraceParts
TraceParts is a world-leading digital engineering 3D content company, offering progressive business solutions through powerful web based products and services.
TraceParts brings targeted and cost-effective market penetration to parts vendors, in all sectors of industry.
The TracePartsOnline.net CAD portal is freely available to millions of CAD users worldwide, with hundreds of supplier catalogs and 100 million CAD models and product datasheets suitable for the Design, Purchasing, Manufacturing and Maintenance processes. For more information about TraceParts, please visit www.traceparts.com
Featured Product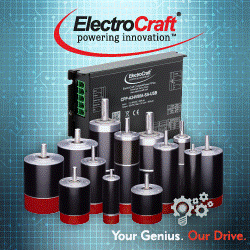 ElectroCraft exhibits its motion control product offer at Robotic related events at trade show and demonstrations across the world. We attend these events and conferences not only to show our motor and drive product offering, but to discuss and learn more about challenges involved with developing commercial robotics across markets.