"The ISA Analysis Division Symposium was a great opportunity to create new industry connections and pursue new ways to get involved at the professional level"
Research Triangle Park, North Carolina, USA (6 May 2015) - More than 300 process and analytical professionals, industry experts and vendors from across the world gathered in Galveston, Texas, USA 26-30 April to explore and discuss the latest advances in analytical processes, techniques and applications at the 2015 ISA Analysis Division Symposium.

This long-running symposium, now in its 60th year, offered a comprehensive program that included three days of technical sessions and presentations; vendor-led training; a Technology Forum and Exhibition of 70 participating companies; a banquet, an annual awards ceremony; and a variety of social activities.
In all, 32 peer-reviewed technical papers—examining the critical issues and emerging innovations in sampling, chromatography, spectroscopy, chemiluminescence and other analytical techniques and instrumentation—were presented. Expert speakers discussed emerging trends and developments and reviewed best practices and success stories.
"The ISA Analysis Division Symposium was a great opportunity to create new industry connections and pursue new ways to get involved at the professional level," remarked attendee Owen Evans. "The connections I made at the event provided me with useful advice and improved my industry understanding."
On Sunday, 26 April, the day before the technical program began, a course on process analytic fundamentals was conducted, providing course registrants with foundational knowledge across a wide range of areas, including: gas chromatography, spectroscopy, discrete gas analysis, system design, sample conditioning systems, communications networking and more.
Following the conclusion of the technical program, on Thursday 30 April, representatives from leading vendors and suppliers provided valuable hands-on training, specifically designed for technicians, on their newest products. Vendor training workshops were conducted by seven companies: ABB Analytical, AMETEK Process Instruments, Servomex, Siemens, Thermo Scientific, Yokogawa, and PAC.
At the awards ceremony, ISAs Analysis Division presented seven Gilmer Thomason Fowler Konrad (GTFK) awards. The GTFK awards program, established in 1976 as a memorial to four of ISAs past directors (Fred Gilmer, Edward Thomason, Lewis Fowler and Ken Konrad), recognizes the authors of the best technical papers in the analysis field.
The 2015 GTFK award winners are:
* Michael Roberto
* Randy Pell
* Scott Ramos
* Brian Rohrback
* Jean-Nic Adami
* Ani Weling
* Julia Graber
In addition, the Model 888 Sulfur Recovery Tail Gas developed by AMETEK Process Instruments was recognized as the Innovative Product of the Year in an award category open to the symposiums 70 product vendors.
"Overall, this event was a wonderful educational, networking and social event that provided my company an excellent opportunity to promote its technologies and gain insights from industry partners," emphasized Brad Johnson, a vendor sales manager. "I highly recommend attending it as it will help you better define automation and process success."
About the ISA Analysis Division
The ISA Analysis Division aims to contribute to the professional involved in every aspect of process stream and laboratory methods of analysis, from theory and development to application, training, calibration, and others. The ISA Analysis Division facilitates program development, implementation and effectiveness through integrated planning, measurement, evaluation and interventions; and supports various specialties, including spectroscopy, chromatography, electrochemistry and sample handling. For more information, visit the ISA Analysis Division web page.
About ISA
The International Society of Automation (www.isa.org) is a nonprofit professional association that sets the standard for those who apply engineering and technology to improve the management, safety, and cybersecurity of modern automation and control systems used across industry and critical infrastructure. Founded in 1945, ISA develops widely used global standards; certifies industry professionals; provides education and training; publishes books and technical articles; hosts conferences and exhibits; and provides networking and career development programs for its 36,000 members and 350,000 customers around the world.
ISA owns Automation.com, a leading online publisher of automation-related content, and is the founding sponsor of The Automation Federation (www.automationfederation.org), an association of non-profit organizations serving as "The Voice of Automation." Through a wholly owned subsidiary, ISA bridges the gap between standards and their implementation with the ISA Security Compliance Institute (www.isasecure.org) and the ISA Wireless Compliance Institute (www.isa100wci.org).
Featured Product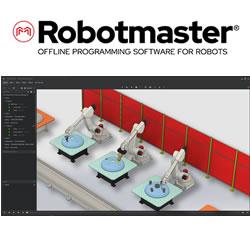 Robotmaster delivers unmatched, full-function off-line programming capability for robots - easy programming of precise robot motion control and quick generation of path trajectories of any size, with minimal programmer intervention. Our strong background in CAD/CAM (Computer Aided Manufacturing) software has enabled us to bring a revolutionary approach to programming industrial robots.