Agreement extends Stratasys Desktop reach to new markets
MINNEAPOLIS & REHOVOT, Israel--Stratasys Ltd. (Nasdaq:SSYS), a leading global provider of 3D printing and additive manufacturing solutions, is expanding its North American channel by adding WYNIT as a value-added distribution partner.

WYNIT, a leading international distributor of products from top brands in consumer electronics, photo, wide format printing, outdoor, security and 3D printing, will now be a distributor of select Stratasys 3D Printers. WYNIT serves an established reseller network in the technical graphics market and, along with Stratasys, will be selectively authorizing resellers in this and other previously untapped market segments.
"By authorizing WYNIT as a national distributor and leveraging its extensive and focused reseller network, we aim to significantly expand Stratasys 3D Printer market share," says Gilad Gans, President, Stratasys North America. "We see this as an opportunity to extend our reach into new segments that are looking to adopt our leading 3D printer technology and relevant solutions and applications."
WYNIT has a dedicated 3D printing team that will offer comprehensive business development and support services for the Stratasys Mojo, uPrint, Objet24 and Objet30 product lines.
"We have an established community of resellers in various markets including the technical (2D) graphics vertical, which we believe has great potential for expanding into the 3D printing category," said Geoffrey Lewis, Chief Executive Officer and President of WYNIT. "We view Stratasys 3D Printers as the market leader in terms of quality and performance for commercial applications. We anticipate that our broad market reach and value-added distribution services will allow us to tap into additional incremental markets."
For more information, please visit WYNITs website.
Stratasys Ltd. (Nasdaq:SSYS), headquartered in Minneapolis, Minnesota and Rehovot, Israel, is a leading global provider of 3D printing and additive manufacturing solutions. The company's patented FDM, PolyJet, and WDM 3D Printing technologies produce prototypes and manufactured goods directly from 3D CAD files or other 3D content. Systems include 3D printers for idea development, prototyping and direct digital manufacturing. Stratasys subsidiaries include MakerBot and Solidscape, and the company operates the digital parts manufacturing service, Stratasys Direct Manufacturing. Stratasys has more than 2,800 employees, holds over 600 granted or pending additive manufacturing patents globally, and has received more than 25 awards for its technology and leadership. Online at: www.stratasys.com or http://blog.stratasys.com
Stratasys, FDM, uPrint,and Mojo are registered trademarks, and FDM Technology, Objet24 and Objet30 are trademarks of Stratasys Ltd. and or its subsidiaries or affiliates.
WYNIT Distribution, LLC is a leading international distributor of products from the top brands in the consumer electronics, photo, wide format printing, security and outdoor leisure and adventure industries. With headquarters in North Syracuse, New York, the company serves a wide range of customers ranging from large national retailers to independent resellers through dedicated business units and strategically located distribution facilities in the U.S. and Canada. Founded in 1987 WYNIT Distribution, LLCs mission is to improve the competitive position of its customers and suppliers. For more information, call WYNIT at 1-800-GO-WYNIT or visit wynit.com
Featured Product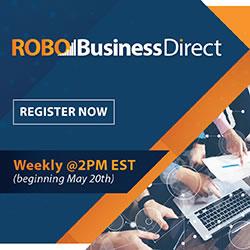 RoboBusiness Direct is built to foster robotics innovation in all its forms, expand robotics business opportunities, and build a community of like-minded problem solvers with the goal of driving the growth of robotics businesses. More than a webinar or virtual event, RoboBusiness Direct is an ongoing, integrated series of presentations and media coverage delivered by brightest minds from the leading robotics and automation companies from around the world - Nuro, FedEx, Lockheed Martin, Samsung, Siemens and more.