The New Cutting-Edge Ultimaker Go and Ultimaker Extended Provide a Variety of Options for Users with an Easy, Reliable and High-Quality User Experience
(AMSTERDAM, NL)- Ultimaker, a leading 3D printer manufacturer, announces the launch of the Ultimaker Go and Ultimaker Extended, two cutting-edge desktop 3D printers. Built with premium parts and materials, these 3D printers bring imagination to life with high definition printing technology. The new Ultimaker Go and Ultimaker Extended follow the success of the top-rated Ultimaker, which was awarded best in shootout 2015 from Make Magazine and best consumer product at the 3D Printshow global awards 2014.

"After receiving recognition and awards from the leaders in the industry, we were inspired to make these new versions of the ground breaking Ultimaker, supporting our vision to aim for the ultimate 3D printing experience," says Siert Wijnia, CEO of Ultimaker, "The Ultimaker Go is a compact printer that is easy to use as a starting printer while the Ultimaker Extended has added a ten centimeter larger build volume for users who want to create larger and more complex projects."
The two newest desktop 3D printers in Ultimakers collection include the following:
Ultimaker Go (€1195,- / $1450,-)* The mighty mini 3D printer: This compact 3D printer is the perfect solution for makers who want to start with 3D printing on a premium level. This lightweight Ultimaker Go offers a high-quality product with a friendly interface which makes it an ideal starter machine for new users. Through its slimmed design, together with its dedicated portable packaging, it is the perfect 3D printer for the maker on-the-go and allows people to use it easily in different contexts. Because of its compact design and allowing a quick start the Ultimaker² Go is not equipped with a heated bed. You can now start your print even faster.
Ultimaker Extended (€2495,- / $3030,-)* Think large, Print Big: For those who just want a little bit more than the best. The Ultimaker Extended boasts some of the highest speed and accuracy found on any desktop 3D printer, with speeds of up to 300mm/s, 0.02mm layer resolution and a 10 cm (4 inches) larger build volume. This larger desktop printer makes a statement at any workspace with its sleek design.
The launch of these two new products is accompanied by an addition to the Ultimaker website that provides a stage for community members to share their projects and get inspiration from others. This addition gives 3D printing enthusiasts the unique opportunity to get insight on upcoming Ultimaker projects, interact with Ultimaker experts and influence decisions on new experimental products, contributing to the whole Ultimaker 3D printing experience.
For more information, visit www.ultimaker.com.
About Ultimaker
Founded in 2011 by three Dutch makers who invented the original Ultimaker, the leading European 3D printer manufacturer has since received multiple global awards and positive industry product reviews. Most recently, the company was awarded best in shootout 2015 in the established Make Magazine and best Consumer Product at the 3D Printshow Global Awards 2014. Committed to making 3D printing better, faster and simpler, the Ultimaker is designed to print larger objects, while the 3D printer itself only occupies a small space on the desktop. Ultimaker strives to participate in the scene instead of being a corporate entity. As one of the most successful open source companies, Ultimaker works very closely with its community to create a personal fabrication revolution. For more information, please visit www.ultimaker.com.
Featured Product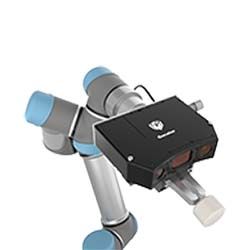 Easily integrate Gocator® 3D line profile and snapshot sensors with a variety of industrial robots to deliver high-performance 3D results in vision guidance, flexible inspection, material dispensing, and automated assembly with smart pick-and-place. Adding 3D vision to a robot turns repetitive, fixed motion into smart movement that can unlock greater value for your automation investment.