John "JC" Coffey, of Cherokee Nation Technologies, named Member of the Year by AUVSI.
TULSA, Okla. May 12, 2015

The Association for Unmanned Vehicle Systems International is honoring John "JC" Coffey, of Cherokee Nation Technologies, with its prestigious "Member of the Year" award. The award recognizes him as an exceptionally dedicated AUVSI member who is advancing unmanned systems through industry innovation and member recruitment.
"JC brings extensive knowledge, expertise and passion to this industry that are both inspiring and contagious," said Steven Bilby, president of CNBs diversified businesses. "He has dedicated his career to advancing unmanned systems, and we are honored to have him representing Cherokee Nation Technologies and CNB."
AUVSI announced the top honors on May 7 during its annual industry conference in Atlanta, Georgia. The event brings together the largest global community of commercial and defense leaders in intelligent robotics, drones and unmanned systems.
"I am extremely honored and humbled by this acknowledgment and want to thank our team at the Cherokee Nation, the NOAA UAS Program Office led by Robbie Hood and AUVSI for their incredible support," said Coffey. "On the 50th birthday of Moore's Law, we are celebrating a unique place in time when a number of technologies are converging for the rapid and affordable advancement of unmanned systems. I accept this award with great enthusiasm and am energized by what lies ahead."
Coffey, a retired naval aviator and Department of Defense acquisition professional joined CNT in 2014 to expand and advance the companys capabilities in unmanned systems. He provides several governmental teams guidance for strategic and program planning, system test & evaluations, system engineering, and program transition to operation.
Working with the National Oceanic and Atmospheric Administration, Coffey has focused his efforts developing and implementing an unmanned systems strategy that provides recommendations for the operation of unmanned aircraft systems (UAS), as well as other unmanned technologies.
CNT provides a full spectrum of unmanned systems expertise, IT services and technology solutions, as well as management and support of programs, projects, professionals and technical staff.
Since 2009, the company has been serving government clients with time-tested solutions that increase client effectiveness through the intelligent use of technology. CNTs expertise includes software and application services, network services and business process services. The company is headquartered in Tulsa, with a regional office in Ft. Collins, Colorado, and client locations nationwide. Wholly owned by the Cherokee Nation, CNT is part of the Cherokee Nation Businesses family of companies.
For more information, please visit http://www.cherokee-cnt.com.
The Association for Unmanned Vehicle Systems International is the world's largest nonprofit organization devoted exclusively to advancing the unmanned systems and robotics community. Serving more than 7,500 members from government organizations, industry and academia, AUVSI is committed to fostering, developing and promoting unmanned systems and robotic technologies.
AUVSI members support defense, civil and commercial sectors.
Featured Product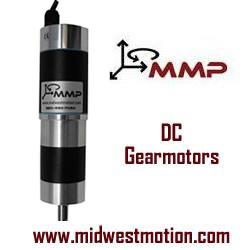 Midwest Motion Products, Inc. (MMP), is a well-established, healthy, & growing Family Owned Business, founded in 2001. MMP specializes in cost-effective standard DC Gearmotors, Motors, Controls, and ancillary equipment. Known world-wide for our "Lightning Fast" delivery capabilities, you can have a Standard Planetary or Right Angled DC Gearmotor BUILT and SHIPPED, often on the very same day you call. Offering Brushed and Brushless designs, with winding voltages ranging from 12 VDC to 120 VDC, we can deliver your "Robust & Reliable" samples within HOURS, instead of weeks, or even months.