New Short Course for Design, Manufacturing, and R&D Professionals Runs July 20-24, 2015
CAMBRIDGE, Mass. May 12, 2015

MIT Professional Education adds a new course, Rapid Prototyping Technology, to its Short Programs offering today. Running July 20 -24, 2015 on MITs campus in Cambridge, Mass., the course will provide participants hands-on exposure to processes commonly used to rapidly fabricate prototypes.
The course presents an introductory-level review of principles that govern rapid prototyping technologies, design for manufacturing, and best practices. Additionally, professionals will work in groups to model and design components for subsequent fabrication during lab time, providing a start-to-finish hands-on technical experience. Lab time will include fabrication guidance by MIT faculty and assembly of components, followed by measurement and inspection of the resulting parts. The course materials cover 3D printing, laser cutting (polymers), waterjet cutting (metals and polymers), CNC milling (metals and polymers), thermoforming (polymers), foam cutting, silicone molding, and use of a CNC router (wood and/or foam). Students will keep parts that they create during the class.
"Rapid prototyping technology is a key enabler for rapid design cycles and other creative engineering and artistic projects," said Professor Martin Culpepper, Director of the MIT Precision Compliant Systems Laboratory. "Program participants will take part in lab sessions that provide a hands-on experience with a variety of state-of-the art rapid prototyping technologies."
The course is geared for professionals who need to understand what dominates and limits the capabilities of the rapid prototype fabrication processes. Professionals seeking knowledge and insight on selecting the right processes and technologies, and on making good design, fabrication, and assembly decisions will also benefit. The course is appropriate for designers, design engineers, directors of engineering, technicians, researchers, makers, model builders, and hobbyists. The lessons learned are highly useful in fields related to design, manufacturing, the arts, architecture, and R&D.
Enrollment is now open to qualifying U.S. and international professionals through the MIT Professional Education website.
MIT Professional Education Short Programs offers professionals more than 40 industry-focused one to five-day sessions, taking place primarily in the summer. Participants learn from leading MIT faculty and gain crucial knowledge to help fuel their careers or enhance their companies in a collaborative academic setting. Upon completion, participants receive an MIT Professional Education certificate of completion, continuing education units, and access to MIT Professional Educations expansive professional alumni network.
About MIT Professional Education
For 65 years, MIT Professional Education has been providing a gateway to renowned MIT research, knowledge, and expertise through advanced education programs designed specifically for working professionals worldwide who are engaged in engineering, science, and technology management. In addition to its Short Programs, MIT Professional Education also offers professionals the capability to take Short Programs courses abroad through International Programs, enroll in regular MIT academic courses through the Advanced Study Program, customize an educational experience for a group of employees at a company site, or join global audiences in taking online courses. Participants are drawn from across the U.S. and around the world, and about 50 percent are international. Upon successful completion of one of these programs, participants receive an MIT Professional Education Certificate of Completion and access to MIT Professional Educations expansive, private professional alumni network, along with other program specific benefits. For more information visit: http://web.mit.edu/professional/.
Featured Product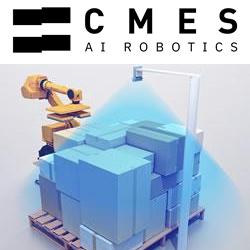 Powered by AI, CMES Robotics enables 3D vision for factory robots. CMES AI vision software enables robots to recognize unstructured, flexible, or deformed objects, pick them up, and loading and unloading. CMES Vision software has been deployed worldwide for random palletization and depalletization along with void filling applications. CMES Robotics automates your warehouse, logistics, and supply chain. For more information, please visit: cmesrobotics.com or email info@cmesrobotics.com.