The worlds first fully adaptive and affordable motion capture system made a guest appearance at Maker Faire Bay Area, and offered virtual reality demos and joined industry luminaries in a panel about the future of Virtual Reality input devices during SVVR in San Jose
San Jose, California May 28, 2015

Perception Neuron, the motion capture technology created by Noitom that is poised to revolutionize the virtual reality industry, was back in Silicon Valley this past week where they were special guests of the Burning Man VR Camp at Maker Faire in San Mateo and were a part of the expo at SVVR—the Silicon Valley Virtual Reality Conference—in San Jose.
Returning to the Bay Area after their noteworthy appearance at GDC San Francisco this past March, the makers of the versatile motion capture system which is used for a variety of applications from visual effects, to sports, medicine and gaming, met with hobbyists and tech enthusiasts at Maker Faire on May 16th and joined with other distinguished members of the VR industry during SVVR on May 18th & 19th.
"Being part of the the Silicon Valley Virtual Reality group has been crucial for us," explains Roch Nakajima, Americas/Europe Marketing Director at Noitom. "Our participation in events like Maker Faire, their network of members, and of course, the SVVR Expo and Conference has permitted us to immerse ourselves and our technology in the heart of the VR community. We have made instant connections and friends, allowing us to rapidly roadmap a strategy for VR with regards to Perception Neuron and future iteration of our products."
The Perception Neuron team had the opportunity to attend Maker Faire as a special guest of SVVRs Shannon Norrell of VR Camp at Burning Man. This offered an excellent opportunity for the Perception Neuron team to interact with technology enthusiasts, hobbyists and amateur scientists from around the world before heading to SVVR. The team extends their gratitude to Shannon and everyone at VR Camp at Burning Man for the chance to be a part of the renowned festival.
At SVVR, Dr. Tristan Dai, CTO of Noitom and Co-Founder of Perception Neuron, was part of a special discussion panel on VR Input which included industry leaders, Yasser Malaika, Designer and Developer at Valve; Oliver Kreylos, Researcher at the University of California, Davis; Richard Marks, R&D Director of Sony PlayStation Magic Labs; and Danny Woodall, Creative Director of Sixense. The panel was moderated by Dr. Jason Jerald of NextGen Interactions. The panel discussed the current and future trends in input devices and concluded with an active talk on haptic technology, its current challenges and its future impact on VR.
During the two-day SVVR conference, the Perception Neuron team met with leading individuals from throughout the VR industry and visitors to their booth were able to try out an immersive two-player demo experience utilizing Oculus and illustrating the systems unique full-finger glove capability. Players of the VR game were able to grab and play with objects using complete finger motions while interacting with one another. The demo received a lot of positive feedback for its ability to allow the two players to play at one time while being able to see each other from their own HMDs.
Many professionals from the VR and film industry attended SVVR and visited the Perception Neuron booth including Andrew Austin, director of the upcoming documentary, Power of the Glove—a film that chronicles the life of the infamous Nintendo Power Glove. By trying out the Perception Neuron demo and glove, Austin was able to bring closure to his quest to uncover the legacy of the vintage gaming accessory. The team extends it thanks to Austin for stopping by the booth and are looking forward to seeing the film.
Up next for Perception Neuron will be The Motion Capture Summit at the Just Cause Entertainment motion capture stage in Marina Del Rey, June 13th and 14th and SIGGRAPH 2015 from August 11th -13th at the Los Angeles Convention Center. For further information visit http://s2015.siggraph.org/.
To learn more about Perception Neuron, or to place an order, visit neuronmocap.com.
Founded in 2011, Noitom Ltd. works with a team of dedicated engineers who develop world-class motion capture technology for consumer and industrial markets through the integration of MEMS sensors, pattern recognition, human kinetics and wireless transmission. Noitom is an international leader in innovative technology for use in animation, film, medical applications, robotics and gaming. Noitom is headquartered in Beijing with affiliate offices in Shenzhen. For further information about Noitom and its services, please visit, http://www.noitom.com. For general inquiries, please email, info@noitom.com.
Featured Product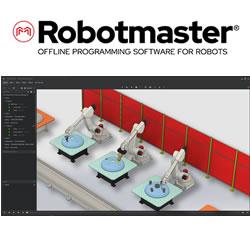 Robotmaster® offline programming software for robots helps manufacturers maximize their productivity and profitability with an intuitive and powerful programing solution ideal for production runs of all sizes and varying part complexity as a result of integrated CAD/CAM functionality.