Qualcomm is Jumpstarting the Next Wave of Innovation in Robotics with its Accelerator program
SAN DIEGO, May 28, 2015 -- Qualcomm Incorporated (NASDAQ: QCOM) today announced the Qualcomm Robotics Accelerator, powered by Techstars, has selected the 10 robotics companies that will be participating in the four-month mentorship-driven startup program:

CARBON ROBOTICS (http://www.carbon.ai/), San Francisco, CA
CLEVERPET (www.getcleverpet.com), San Diego, CA
CTRL WORKS (www.ctrlworks.com), Singapore
INOVA DRONE (www.inovadrone.com), San Diego, CA
REACH ROBOTICS (www.reachrobotics.com), Bristol, UK
SKYFRONT (www.skyfront.com), Hoboken, NJ
SKY ROBOTICS (www.skyrobotics.com), Athens, Greece
SKYSENSE (www.skysense.de), Berlin, Germany
SOLENICA (www.solenica.com), Rome, Italy
RATIONAL ROBOTICS (www.rationalrobotics.com), Alberta, Canada
The companies moved into the newly remodeled accelerator space on Qualcomm's main campus in San Diego, Calif. on May 26. The 7,000 square foot collaborative space is outfitted with a lab and work stations for the teams so they can focus on building next generation robotics technologies. Qualcomm is committing over $1 million in aggregate funding to the program with each of the 10 participating companies receiving an equal share. Additionally, the participants will be offered business and technical insight on robotics during the program to support them in taking their businesses to the next level.
The program will conclude on September 10, 2015 with a Demo Day where teams will have the opportunity to pitch and demo their robotic innovations to an audience of external mentors, investors and media as well as executives from Qualcomm and Qualcomm Ventures, the investment arm of Qualcomm Incorporated.
"The diversity and breadth of focus of the robotics accelerator selectees demonstrates the remarkable innovation underway around the world in this space," said Matt Grob, chief technology officer, Qualcomm Technologies, Inc. "Robots use many of the same technologies that are currently present in smartphones and we at Qualcomm are gratified to have the opportunity to provide entrepreneurs and innovators worldwide with the technologies and support that will help them transform our daily lives. We look forward to participating with the selectees in this revolution."
Qualcomm has been actively doing research in robotics with the aim to drive innovation in robotics through a state-of-the-art computing platform, including hardware and software, built around a Qualcomm Snapdragon processor. Qualcomm Snapdragon is a product of Qualcomm Technologies, Inc. It is the Company's belief that flying and rolling robots need an integrated, high performance computing and communications solution with integrated real-time flight control, machine learning and computer vision capabilities. Because of its work and leadership in these mobile technologies, Qualcomm Technologies is well-positioned to bring them to robotics and other adjacent industries. Qualcomm Technologies has unveiled several of its robots, such as the Snapdragon Rover and rolling and flying Snapdragon Cargo, to showcase how mobile technologies can power robots and UAVs.
For more information about Qualcomm's robotics initiatives, please visit www.qualcomm.com/robotics. For more information on the Qualcomm Robotics Accelerator, powered by Techstars program and additional details about the program's inaugural class, visit qualcommaccelerator.com.
About Qualcomm Incorporated
Qualcomm Incorporated (NASDAQ: QCOM) is a world leader in 3G, 4G and next-generation wireless technologies. Qualcomm Incorporated includes Qualcomm's licensing business, QTL, and the vast majority of its patent portfolio. Qualcomm Technologies, Inc., a wholly-owned subsidiary of Qualcomm Incorporated, operates, along with its subsidiaries, substantially all of Qualcomm's engineering, research and development functions, and substantially all of its products and services businesses, including its semiconductor business, QCT. For more than 25 years, Qualcomm ideas and inventions have driven the evolution of digital communications, linking people everywhere more closely to information, entertainment and each other. For more information, visit Qualcomm's website, OnQ blog, Twitter and Facebook pages.
About Techstars
Techstars is a global ecosystem that empowers entrepreneurs to bring new technologies to market wherever they choose to build their business. With 18 mentorship-driven accelerator programs worldwide, Techstars exists to support the world's most promising entrepreneurs throughout their lifelong journey. Techstars provides access to over 5,000 founders, mentors investors, and corporate partners, allowing entrepreneurs to accelerate the pace of innovation and do more, faster. Techstars makes entrepreneurship more accessible by providing access to capital, guidance, marketing, business development, customer acquisition, and recruitment. For more information, visit www.techstars.com.
Featured Product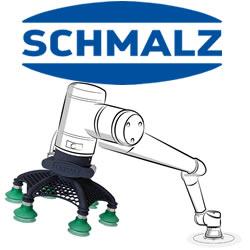 In order to interact with their environment and perform the tasks, lightweight robots, like all industrial robots, depend on tools - and in many cases these are vacuum grippers. These form the interface to the workpiece and are therefore a decisive part of the overall system. With their help, the robots can pick up, move, position, process, sort, stack and deposit a wide variety of goods and components. Vacuum gripping systems allow particularly gentle handling of workpieces, a compact and space-saving system design and gripping from above. Precisely because the object does not have to be gripped, the vacuum suction cupenables gapless positioning next to each other.