Soluble Support and Heated Chamber Provide High-Quality in Entry Level Printer
WARSAW, Poland, May 27, 2015 --

Highlights:
Zortrax, a leading global manufacturer of 3D printers, today announced Zortrax Inventure (https://youtu.be/LTWWPGjkdik), a compact and precise 3D printer suitable for any office.
Features previously only found in the highest-quality 3D printers have been applied to Inventure, ensuring a streamlined, high caliber experience. Distinctive features, functionality and enhancements include:
* Soluble support allows users to print more complicated objects and movable models, because printed models do not require manual processing. Essentially, the material is removed in a special solution which dissolves any unnecessary parts within a few hours.
* A fixed printing temperature from a heated chamber guarantees high dimensional precision of printed models.
* A closed casing with a HEPA filter ensures safety of work.
* Double heads provide simultaneous printing from basic and support materials.
* Cartridges deliver easy removal or replacement of printing materials.
* An embedded display with a notification system allows the ability to control the printing process.
* The 130x130x130 working area allows the user to print the majority of typical 3D models without the necessity of dividing them into parts.
"Inventure stands out thanks to its price/quality ratio and its ease of use. It's our hope that Inventure's plug and print ability will allow more professionals to access and regularly use 3D print technology," said Rafal Tomasiak, Zortrax CEO and one of the printer's designers.
"3D print technology can be used wherever fast prototyping or production of a small number of copies of a given object is required. The most common users of 3D printers are engineers, designers and architects, but the list of users has been constantly expanding. We receive more and more inquiries from educational institutions as well as the medical and automotive industries," added Tomasiak.
To appeal to customers across varying industries, Zortrax focused on the devices' design, pulling several features from the award-winning M200 printer. As a result, the printers are not only easy to use but also have a distinctive exterior. Inventure was designed to suit any office space, e.g. architectural studios. The printer is compact in size, has a closed printing chamber and a sleek, clean look.
New printing material, Z-ULTRAT Plus, has been enhanced for Inventure printers. This thermoplastic substance is particularly resistant to damages and can be used for both industrial prototyping as well as printing final objects. The models made of this material are suitable for pre-production tests as their quality is close to the products made with injection mold technology.
Inventure printers are equipped with every element needed to start printing right after taking the device from the box and plugging it in. The package includes useful tools, a cartridge with Z-ULTRAT Plus and support material as well as instructions for downloading Z-SUITE software. This program helps users by facilitating preparation of 3D models for printing (e.g. by determining their size or position on the printer's platform) and, along with the printer and printing materials, constitutes a closed ecosystem to ensure the highest quality for precise printouts.
Zortrax's Inventure will be available in the US later this year.
About Zortrax
Zortrax is a leading global manufacturer of 3D printers. Based in Poland, since 2011, Zortrax has created an integrated environment for 3D printing including printers, filaments (materials used for printing) and copyrighted software that makes it simple for businesses to create high-quality 3D printed objects. Zortrax solutions have been recognized with a Design Alive Award for best strategist and for Zortrax M200 (2014), 3D Hubs Best Plug & Play Device (2014), and Best Desktop Device Worldwide Award (2015).
For more information visit: www.zortrax.com
Featured Product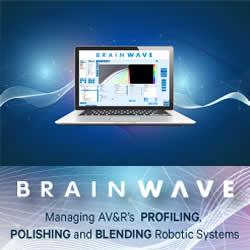 The AV&R team has developed a software for our robotic machines with the mission to make robotics accessible to everyone. This software is the glue which orchestrates the interaction between the system components in a single user-friendly interface. Comparing our machines to ourselves as humans, this software would be the control center of all faculties of the body, hence its name: BrainWave.