June 10-11 2015 at the Long Beach Convention Center, CA
May 28, 2015 (Andover, MA), MEMSIC, Inc. plans to demonstrate its latest advanced technologies at the Sensors Expo and Conference, to be held June 10-11 2015 at the Long Beach Convention Center, CA, booth number 245.

MEMSIC products, including semiconductors and system-level devices, are designed to solve challenging inertial and flow sensing solutions across a wide range of applications. The built-in algorithm and calibration features reduce time to market and development cost. Products showcased at the Expo include:
· Semiconductor Solutions including both AMR-based magnetometer and MEMS thermal accelerometers. MEMSIC magnetometers are used in millions of smart phones and tablets, due to their exceptional low-noise performance, wide dynamic range, and low power consumption. MEMSICs provides the industrys only single-chip and wafer level packaged accelerometer. These devices are shipped into millions of automotive, industrial and consumer products every year due to their extreme immunity to shock and vibration.
· Flow Sensors: MEMSICs MEMS-based flow sensor offer industry leading dynamic range, low power consumption, ease-of-use and integration. They are widely used in applications such as industrial flow, mass flow controllers, medical equipment, and natural gas meters.
· Inertial Measurement Systems: Including the latest 380 series of products with IMU, AHRS and GPS-based navigation algorithms are offered in a variety of form factors and designs. MEMSIC IMU products are used across a wide range of application including UAVs, precision agriculture, construction, infrastructure monitoring, avionics, platform stabilization and much more.
· TILT sensors: MEMSIC Tilt sensors offer accurate and robust tilt angle measurement under both extreme static and dynamic conditions. Please be sure to stop at our booth for a demonstration of the best dynamic tilt sensor in the market!
Engineers from all MEMSIC will be on hand to demonstrate our products and answer any questions you may have.
ABOUT MEMSIC
MEMSIC Inc., headquartered in Andover, Massachusetts, provides advanced semiconductor sensors and multi-sensor system solutions based on micro-electromechanical systems (MEMS) technology and sophisticated integration technologies in both the IC level and module level. MEMSICs unique and proprietary approach combines leading-edge sensor technologies, such as magnetic sensors and accelerometers, with mixed-signal processing circuitry to produce reliable, high quality, cost-effective solutions for the mobile phone, automotive, consumer, industrial and general aviation markets. www.memsic.com
Featured Product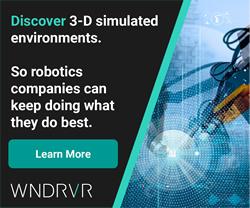 Develop new robotic capabilities with ROS 2 for VxWorks. ROS 2 for VxWorks® project provides custom modifications and build scripts to integrate the Robot Operating System 2 (ROS 2) framework with VxWorks 7. ROS 2 is a set of software libraries and tools that aid in building robot applications. Build ROS 2 for VxWorks using 1) with a VxWorks SDK that is available on the site under a free non-commercial use license; or via 2) with a commercially-licensed VxWorks product.