Automated loading and unloading of cutting and molding machines.
ANN ARBOR, MICHIGAN. A new white paper from Güdel serves as a "Design Guide for Automated Machine Tending Applications." It is written for systems integrators, manufacturing engineers and plant managers involved in the loading and unloading of machine tools, forming, processing and molding machines.

The paper is available for free download at : http://gudel.lead-central.com/56
"This white paper is very clear on how to identify and prioritize technical and financial considerations for automated machine loading and unloading," said Joe Campbell, Vice President, Güdel. "It covers benefits of flexible machine tending and goes through the entire spectrum of automation choices."
As noted by the Robotic Industries Association, demand for material handling (such as tending) accounts for the largest share of robot orders (33-percent for the first quarter of 2015). Among the considerations for automated machine loading and unloading…
* Production run volume
* Part handling speed
* Uptime and efficiency
* Size and weight of parts
* Secondary operations
Increased throughput is a popular reason to automate machine tending. Other goals may be to boost system uptime, improve process flow and optimize floor space. Ergonomics and safety are more reasons to automate.
"Whatever the justification for automated loading and unloading, this white paper helps to identify alternative automation strategies," said Campbell. "It (the paper) offers tips and information to help optimize the investment in machine tending automation."
For instance, it may be nice (or seem necessary) to have one fixed robot per station but an overhead linear gantry robot can service multiple stations. This controls costs in terms of capital expenditure, programming and maintenance. In large, non-linear work areas, a 5- or 6-axis robot can be mounted on an overhead area gantry to cost effectively reach complex geometry.
The white paper goes into thorough detail on choices to make with hard automation, linear motion and robotics for machine tending. Güdel engineers are available for help during all stages of implementation, from gearbox sizing and module selection to service and spare parts.
Download the white paper now. For follow-up by Güdel application engineers about standard modules, service and spare parts, contact North American headquarters at 734-214-0000 or use the online contact form.
About Güdel, Inc.
Güdel Inc. is the US subsidiary of Güdel Group, a global manufacturer of robotic automation products, systems and services. Güdel supplies linear motion modules, robot track motion units, gantry robots and components to OEM's, systems integrators and machine builders serving the automotive, aerospace, logistics, heavy industrial and power generation industries. Güdel Inc. is located in Ann Arbor, Michigan in a dedicated 45,000 square foot facility, providing North American customers with engineering, design, production, and, customer service support. Contact Güdel at 734.214.0000 or visit www.gudel.com/us.
Güdel Group was founded in 1954. Headquartered in Langenthal, Switzerland, today Güdel operates in more than 20 locations worldwide.
Featured Product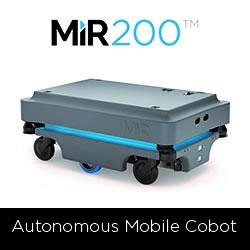 MiR200 is a safe, cost-effective mobile robot that automates your internal transportation. The robot optimizes workflows, freeing staff resources so you can increase productivity and reduce costs. MiR200 safely maneuvers around people and obstacles, through doorways and in and out of lifts. You can download CAD files of the building directly to the robot, or program it with the simple, web-based interface that requires no prior programming experience. With its fast implementation, the robots offers a fast ROI, with payback in as little as a year.