Educational sessions will be offered in multiple tracks including GIS, assessment, infrastructure and public safety.
Bothell, Washington June 11, 2015

EagleView Technology Corporation, a leading technology provider of aerial imagery, data analytics and GIS solutions, announced that its wholly owned subsidiary, Pictometry International Corp., will host the 2015 FutureView User Conference August 19-21, 2015 in Nashville, Tennessee at the Renaissance Nashville Hotel.
"FutureView is a chance for users of Pictometry imagery and technologies to see the future through the eyes of imagery engineers, 3D technicians and GIS solution leaders," explained EagleView president and CEO Chris Barrow. "The conference is a platform for users to learn, share best practices and literally get a glimpse of the future of the technologies that can power their operations."
Educational sessions will be offered in four different tracks: GIS, assessment (IAAO accredited), infrastructure and public safety. A variety of topics are featured and include unmanned aerial systems (UAS) demonstrations, cross-market discussion panels, emergency response solutions, property assessment trends, analytical tools and more. Two full days of certified Pictometry training will be offered preconference with additional training opportunities throughout the rest of the conference. There will also be special early exposure to the next generation of CONNECTExplorer which is being launched at the event.
"Attendees will experience several additional opportunities this year including the Pictometry Technology Summit for developers and engineers along with numerous drone presentations and demonstrations," stated Robert Locke, president of Pictometry Government Solutions. "As always it will deliver a current and futuristic view of the uses and potential of high-resolution aerial imagery and the powerful data that can be extracted to improve workflow production, event response and work efficiencies."
FutureView was started by Pictometry International Corp. in 2006 as a meeting place for users to network and learn. It has now evolved into a full user conference offering educational tracks for numerous industries. Register to attend today at http://www.pictometry.com/futureview. For additional questions or information on how to support the event as a partner, email futureview(at)pictometry(dot)com.
About EagleView
EagleView Technology Corporation, through its two wholly owned subsidiaries, EagleView Technologies, Inc. and Pictometry International Corp., is the unparalleled provider of aerial imagery, data analytics and GIS solutions serving the commercial, government and public utility sectors. The companys patented image capture processes and 3D modeling algorithms coupled with property-centric analytic tools empower end-user workflows with scalable, efficient and highly accurate answer sets in support of property claims, risk management, construction, emergency response, assessment, corridor mapping and more. For more information contact (866) 659-8439 or visit http://www.eagleview.com or http://www.pictometry.com.
Featured Product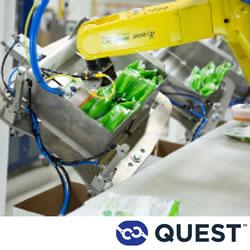 Quest is a leading manufacturer of industrial automation equipment focusing on robotics and vision-guidance. With expertise in the food, beverage, and dairy, Quest optimizes floor space for customers experiencing growing demand and helps improve their overall production line flexibility and efficiency. Quest offers application-specific software on their robotic products, including pick and place, case packing, and palletizing systems to simplify system setup and streamline configurability. Quest is a product brand of ProMach, a global leader in packaging line solutions.