Fourteen original equipment manufacturing brands will showcase primary packaging, end-of-line packaging, flexible packaging, bottling & capping, and identification and tracking under the Pro Mach banner at the Centro Banamex Convention Center, Mexico City, June 16-19.
Mexico City, Mexico June 15, 2015

Pro Mach, a leading provider of integrated packaging and processing products and solutions for food, beverage, consumer goods, pharmaceutical, and other industries, will display solutions from 14 of its more than 20 brands at Expo Pack Mexico, June 16-19 at the Centro Banamex Convention Center. This is the largest contingent of Pro Mach brands, machines, and overall packaging solutions ever assembled at Expo Pack Mexico.
This major investment in the Expo Pack Mexico exhibition results from the rapidly growing customer base for Pro Mach brands in Mexico, Central America, the Caribbean, and Colombia. As part of its overall Expo Pack Mexico activities, the company announced the establishment of the new Pro Mach Mexico Shared Services business in Monterrey, Mexico. This facility will serve Pro Machs Latin American customers, distributors, and agents with aftermarket parts availability, custom stocking of consumables, training, equipment demonstrations, light assembly, and technical field service support. The Monterrey facility is expected to open this summer.
Pro Mach has established two full islands of equipment solutions at Expo Pack Mexico. Attendees are invited to visit the Pro Mach Booth #1809 and:
* Pace #1808: bottle unscramblers, orientors and conveyor cleaners
* Zalkin #1810: state-of-the-art capping systems
* Ossid #1816: tray overwrapping for leak proof solutions
* Orion #1822: automated stretch wrappers for more stable pallet loads
* Axon #1908: shrink sleeve label applicators and energy efficient shrink tunnels
* Roberts PolyPro #1910: bottle handles and applicators
* Federal #1912: rugged, dependable, high speed filling machines
* Matrix with Matrix and Toyo Jidoki equipment #1916: flexible packaging, including v/f/f/s bagging machines and pre-made pouch fillers
* ID Technology #1920: the latest in identification and tracking solutions
* Brenton and Currie by Brenton #1922: superior end-of-line packaging systems, including robotic palletizing
* Wexxar/BEL and Dekka #1924: case forming, erecting, and sealing solutions as well as integrated form, pack, and seal systems
Pro Mach is the title sponsor of the Expo Pack 30th Anniversary Reception on Wednesday, June 17, from 8:00 - 10:00 p.m. at the Salon Valparaiso 1 in the Centro Banamex. All Expo Pack Mexico attendees and exhibitors are welcome and encouraged to attend.
"These innovative individual brands place in a customers hands the ability to improve the quality and productivity of their packaging operations," said Mark Ruberg, Vice President, Pro Mach Business Process. "Through the new Pro Mach Mexico Shared Services business and facility in Monterrey, Mexico, Pro Mach companies will be able to deliver more training, technical support, equipment demonstrations, and parts stocking than any single brand could do on its own. We believe Latin American customers will find exceptional value from Pro Mach and its brands, beginning with machine specification and continuing through to aftermarket parts and ProCustomer support."
Pro Mach Mexico Shared Services is located at Manzana 23, Parque Industrial Marfer, Santa Catarina, Nuevo León, Mexico. For more information call +52 1 (81) 1910 3216. Anyone interested in joining the Pro Mach Latin American Team should stop by the Pro Mach Booth at Expo Pack Mexico.
About Pro Mach
Pro Mach is a leading provider of integrated packaging and processing products and solutions for food, beverage, consumer goods, pharmaceutical, and other diverse companies. Through its brands, Pro Mach provides product packaging and processing equipment, PMMI certified training, installation, parts, and service in Bottling & Capping, Primary Packaging, Flexible Packaging, Material Handling, Identification & Tracking, and End-of-Line Packaging.
Pro Mach has a diverse customer base, from Fortune 500 companies to smaller, privately-held businesses worldwide, which depend on reliable, flexible, technologically advanced equipment and integrated solution sets. Pro Mach is headquartered near Cincinnati, Ohio, with manufacturing facilities and offices throughout the United States, Canada, and Europe. For more information about Pro Mach, visit http://www.ProMachInc.com.
Featured Product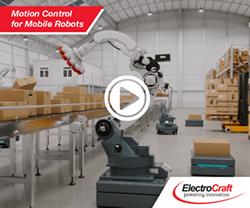 ElectroCraft is showcasing its award-winning mobile robot technology including their powerful and compact wheel drives, high-torque-density brushless DC motors, precision linear actuators as well as servo motor drive technology at a variety of conferences and tradeshows including the Boston Robotics Summit. Robotics Summit is the premier symposium for the sharing of ideas, technology, and market developments for robotic technologies across industries. Beyond a showcase and pitch of product, ElectroCraft is eager to participate in the collaborative discussion of challenges and opportunities that will shape the near and long-term robotic marketplace.