The new Pro Mach Mexico Shared Services business will open a sales, technical support, equipment, and parts stocking facility in Monterrey, Mexico, this summer. See Pro Mach and 14 of its more than 20 brands at Expo Pack Mexico June 16-19.
Monterrey, Mexico (PRWEB) June 15, 2015

Pro Mach, a leading provider of integrated packaging and processing products and solutions for food, beverage, consumer goods, pharmaceutical, and other industries, announced today that the company is significantly expanding the support of its Latin American customers. The creation of Pro Mach Mexico Shared Services expands in-country sales presence and technical field services to better support Pro Machs rapidly expanding customer base. The opening of the shared services facility in the Santa Catarina Industrial Park, Monterrey, Mexico will occur this summer.
The Pro Mach Mexico Shared Services business will provide customers, distributors, and agents with aftermarket parts availability, custom stocking of consumables, training, equipment demonstrations, light assembly, and technical field support. Deploying parts and having regional services available, in country, means better overall productivity for customers. Pro Mach currently has four full-time Latin American technical support personnel, eight sales representatives, and a number of well-equipped channel partners supporting its customers in Latin America.
"The power of Pro Mach is that it ensures best industry practices from each of its brands in terms of research and development, engineering, manufacturing, back office services, and aftermarket support through the ProCustomer program," said Adrian Hermosillo, Director, Pro Mach Mexico Shared Services. "The Pro Mach Mexico Shared Services business will deliver a host of advantages to Pro Machs Latin American customers in ways far greater than any single brand could do on its own."
Hermosillo, who has been in sales, marketing, and technical support for Axon for more than four years in the USA, is a Monterrey native. He holds a B.S. degree in engineering from Monterrey Tech (ITESM) and an MBA from UNC-Chapel Hill, Kenan Flagler Business School. He will be responsible for all aspects of the Pro Mach Mexico Shared Services business, including facility management, importation of aftermarket parts, management of training services, equipment demonstrations, trade shows, and Internet-based marketing.
"Adrian is a Pro Mach veteran with exceptional knowledge of packaging technology and customer expectations," said Mark Ruberg, Vice President, Pro Mach Business Process Group. "He brings superior engineering, sales, and support skills to his new position. Adrian establishes close personal relationships with customers, which is essential for success. He is an outstanding representative of Pro Mach, and we are proud that he will be leading our efforts for the new Pro Mach Mexico Shared Services business."
Expo Pack Mexico, June 16-19, Banamex Convention Center
Pro Mach will have 14 brands exhibiting at Expo Pack Mexico 2015. Pro Mach has increased its presence every year at Expo Pack Mexico to support growing sales in the region. Attendees are invited to visit the Pro Mach Booth #1809 and:
* Pace #1808: bottle unscramblers, orientors and conveyor cleaners
* Zalkin #1810: state-of-the-art capping systems
* Ossid #1816: tray overwrapping for leak proof solutions
* Orion #1822: automated stretch wrappers for more stable pallet loads
* Axon #1908: shrink sleeve label applicators and energy efficient shrink tunnels
* Roberts PolyPro #1910: bottle handles and applicators
* Federal #1912: rugged, dependable, high speed filling machines
* Matrix with Matrix and Toyo Jidoki equipment #1916: flexible packaging, including v/f/f/s bagging machines and pre-made pouch fillers
* ID Technology #1920: the latest in identification and tracking solutions
* Brenton and Currie by Brenton #1922: superior end-of-line packaging systems, including robotic palletizing
* Wexxar/BEL and Dekka #1924: case forming, erecting, and sealing solutions as well as integrated form, pack, and seal systems.
Pro Mach is the title sponsor of the Expo Pack 30th Anniversary Reception on Wednesday, June 17, from 8:00 - 10:00 p.m. at the Salon Valparaiso 1 in the Centro Banamex. All Expo Pack Mexico attendees and exhibitors are welcomed and encouraged to attend.
Pro Mach Mexico Shared Services is located at Manzana 23, Parque Industrial Marfer, Santa Catarina, Nuevo León, Mexico. For more information call +52 1 (81) 1910 3216. Anyone interested in joining the Pro Mach Latin American Team should stop by the Pro Mach Booth at Expo Pack Mexico.
About Pro Mach
Pro Mach is a leading provider of integrated packaging and processing products and solutions for food, beverage, consumer goods, pharmaceutical, and other diverse companies. Through its brands, Pro Mach provides product packaging and processing equipment, PMMI certified training, installation, parts, and service in Bottling & Capping, Primary Packaging, Flexible Packaging, Material Handling, Identification & Tracking, and End-of-Line Packaging.
Pro Mach has a diverse customer base, from Fortune 500 companies to smaller, privately-held businesses worldwide, which depend on reliable, flexible, technologically advanced equipment and integrated solution sets. Pro Mach is headquartered near Cincinnati, Ohio, with manufacturing facilities and offices throughout the United States, Canada, and Europe. For more information about Pro Mach, visit http://www.ProMachInc.com.
Featured Product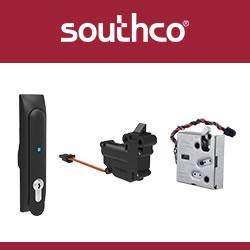 Many robotics engineers need to securely mount and latch sensitive electronic components in their robotics applications; Southco is able to help reduce theft and vandalism with our proven and reliable access technologies. Learn how Southco can help secure your robotics, or other smart city application, from theft and vandalism.