U.S. Patent Trial and Appeal Board denies Afinias attempts to challenge validity of Stratasys IP
Minneapolis & Rehovot, Israel - June 12, 2015 - Stratasys Ltd. (Nasdaq:SSYS), a leading global provider of 3D printing and additive manufacturing solutions, announced that the U.S. Patent Trial and Appeal Board (PTAB) of the United States Patent & Trademark Office (USPTO) has denied Afinias requests for inter partes review of three important FDM technology patents directed to liquefier structure, temperature control, and tool paths for constructing part perimeters.

Inter partes review is a proceeding in which the PTAB reviews the validity of claims in a patent. In denying Afinias requests, the PTAB reasoned that Afinia "has not demonstrated a reasonable likelihood of prevailing," with respect to any of the challenged claims, in the Stratasys patents. This decision is particularly notable in that, based on current PTAB statistics (published by the USPTO), the PTAB denies only about one of four inter partes review requests.
"We are very pleased with the U.S. Patent Trial and Appeal Boards decision," said Soonhee Jang, Stratasys Vice President and Chief IP Counsel. "These dismissals are evidence of the strength of our patent portfolio."
These same three patents are asserted by Stratasys in the case of Stratasys, Inc. v. Microboards Technology, LLC dba Afinia, pending in the United States District Court for the District of Minnesota where Stratasys continues to pursue a relief from the court involving Afinias infringement on three Stratasys patents.
Stratasys Inc.'s co-founder and chief innovation officer, Scott Crump, invented Fused Deposition Modeling (FDM), a technology that prints three dimensional objects from computer models by building them up in layers. Stratasys FDM solutions are the most widely adopted 3D printing solutions in the industry. The company will continue to significantly invest in technology, product and solution development, in order to make 3D printing more accessible and widely adopted by current and future users.
Featured Product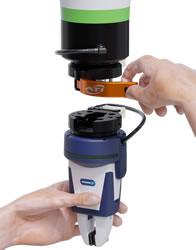 ATI Industrial Automation's MC-10 Manual Tool Changer provides a cost-effective solution for quickly changing tools by hand. Its compact yet robust design is optimized for collaborative robot applications. The ergonomic twist-collar locking mechanism ensures a secure attachment of the tool and easy manual operation with tactile feedback. This Manual Tool Changer can carry payloads of up to 22 lbs and includes multiple fail-safe features that resist vibration and prevent loosening. The MC-10 Manual Tool Changer has integrated air pass-through connections and options to connect electrical utilities if needed. ATI will feature the new MC-10 along with a variety of other robotic demonstrations and product displays at this year's IMTS show in Chicago (Booth #236417).