Twenty Startups Showcase Their Innovations to Investors and Corporations, Second Batch of Entrepreneurs Graduate from IoT Accelerator
SUNNYVALE, CA June 22, 2015

Plug and Play Tech Center, the worlds largest accelerator, is holding a pitch competition event on June 25th from 1pm-5pm. This event marks the culmination of the Plug and Play IoT acceleration program. The competition will showcase the latest innovation in technologies related to connected health, connected home, and connected car. Twenty startups from around the world have made their way to the heart of technology, Silicon Valley, to pitch to an audience of corporate executives, venture capitalists, angel investors, and media.
"The IoT space is exploding and heavily influencing many different industries - thats why were so excited to unveil Plug and Plays Internet of Things Startups, concluding the three month accelerator program," said Candace Widdoes, Vice President of Strategic Partnerships. "In partnership with State Farm, Bosch, Johnson & Johnson, Munich RE, and Philips, weve selected top startups influencing the insurance, industrial, healthcare, and automotive spaces."
Plug and Play IoT selected startups into the accelerator that were focused on the connected car, connected home, and connected health fields. The early-stage startups selected for the second batch of this program brought in a wide range of solutions ranging from connected devices and wearables to smart sensors, robotics, and augmented reality. Each startup will give a condensed three-minute pitch over the course of the day and our VIP judges will select three winners to be announced at the cocktail party afterwards.
The host of VIP judges in attendance will be made up of Plug and Play IoTs corporate partners in addition to the programs VC partners from the likes of Norwest, Fenox, and Javelin.
The judges will use three criteria to evaluate the startups and their pitches. First, startups will gain favor if their product or idea is better, faster, cheaper, more efficient, convenient, and focused than the others in the market. Second, the winning startup will have a well-defined strategy and clear customer-base in a growing market. Finally, the startup must show they have the ability to execute their plan and a solid team with industry knowledge and leadership skills.
"Through Plug and Plays IoT accelerator program, Philips has worked with some of the most promising startups that will play a central role in the rapid evolution of connected lighting systems," said Mark Pacelle, Senior Director of Open Innovation for Philips. "Fueled by its pervasive deployment and embedded data acquisition capabilities, the connected lighting infrastructure is becoming a leading IoT application platform for a broad range of startups serving the home, professional indoor and urban spaces."
Plug and Play IoT is a three-month program designed to accelerate each startups journey to market through strategic investment, mentorship, and business development opportunities. The upcoming EXPO event marks the graduation of the second batch of companies and applications for the third bactch will open up in early July.
Come and meet these incredible handpicked entrepreneurs on June 25th at Plug and Plays headquarters, 440 N. Wolfe Road, Sunnyvale, CA 94085.
To purchase tickets, please use the following link: http://bit.ly/iotexpo15
To request a press pass for this event, please contact: allison(at)plugandplaytechcenter(dot)com
Learn more about our IoT Program by visiting our website:
http://www.plugandplayaccelerator.com/iot
About Plug and Play Tech Center
Plug and Play Tech Center is the worlds largest global technology accelerator and venture fund. Since inception in 2006, our program has expanded worldwide to include entrepreneurs from 24 countries, providing necessary resources to succeed in Silicon Valley. With over 350 startups and 300 corporate partners, we have created the ultimate startup ecosystem. Plug and Play provides active investments with 180 leading Silicon Valley VCs, and more than 365 networking events per year. Companies in our community have raised over $3.5 billion in funding, with successful portfolio exits including Danger, Dropbox, Lending Club, PayPal, SoundHound, and Zoosk.
Featured Product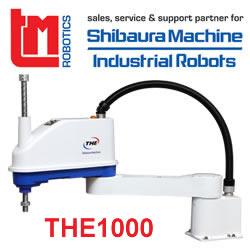 Designed for assembly and inspection applications in the electronics equipment and automobile components industries, the THE600 SCARA is a powerful automation tool. Advancing from the specifications of the existing THE400 SCARA, the THE600 has been developed to meet growing demand for fast-cycle automation. The THE600 model includes improvements in synchronised control and tracking precision. The THE600 is compact in design and offers improved high speed, with 60 per cent higher payload capacity than competing SCARA models in the same price range, making it the price-to-performance leader. Affordable price, impressive performance.