Exhibit supported by Google.org features SCHUNK and begins national tour in Chicago
CHICAGO 6-12-2015—Theyre here … to help and improve our lives. On May 21, 2015, the Museum of Science and Industry, Chicago (MSI) premiered a new national touring exhibit, Robot Revolution, supported by Google.org, which includes SCHUNK.

Robot Revolution explores how robots, created by human ingenuity, will ultimately be our companions and colleagues, changing how we play, live and work together. The exhibit allows guests to step into a visionary world where robots are not just a curiosity, but a vital asset.
The exhibit comes to life with a collection of cutting-edge robots that have been secured from some of the most innovative global robotics companies and universities.
Within the Skills area of the exhibit, the SCHUNK LWA Powerball arm with the attached SCHUNK 3-finger hand allows guests to watch advanced gripping systems with seven degrees of freedom in action how they can grip various objects. Additionally, guests can see the SCHUNK 5-finger hand mimicking a human hand with nine motors, twenty joints, and elastic fingertips. SCHUNK Grippers also grasp object of all different shapes and sizes in the exhibit.
"We are extremely excited to support MSI with its important mission to show the world the importance of robotics, its infinite possibilities and to get the younger generation eager and interested in robotics," said Jesse Hayes, Automation Group Manager at SCHUNK.
MSIs Robot Revolution exhibit development team worked with a renowned group of robotics experts to offer insight on exhibit content. This team of advisors includes lead advisor Dr. Henrik I. Christensen, KUKA Chair of Robotics at the College of Computing of Georgia Institute of Technology and executive director of the Institute for Robotics and Intelligent Machines, as well as Dr. Dennis Hong, professor and founding director of RoMeLa (Robotics & Mechanisms Laboratory) of the Mechanical & Aerospace Engineering Department at UCLA.
Throughout Robot Revolution, hands-on elements, intriguing video and thought-provoking questions enable guests to recognize the amazing ways that robotics can better society.
"We believe it is vital to inspire the next generation of engineers and tech entrepreneurs so that we can continue to see technology change the world," said Jim Lecinski, head of Google's Chicago office. "Google is happy to support MSI's Robot Revolution exhibit to make complex concepts accessible to kids of all ages and to get them excited about science, technology, engineering and math."
Robot Revolution is supported by Google.org with additional support from The Boeing Company, RACO Industrial, The David Bohnett Foundation, The Kaplan Foundation and official airline United Airlines. This exhibit will run at MSI through January 3, 2016, then will continue on its tour within the United States. For more information and to purchase tickets, visit msichicago.org.
The Museum of Science and Industry, Chicago (MSI), one of the largest science museums in the world, offers world-class and uniquely interactive experiences that inspire inventive genius and foster curiosity. From groundbreaking and award-winning exhibits that cant be found anywhere else, to hands-on opportunities that make you the scientist—a visit to MSI is where fun and learning mix. Through its Center for the Advancement of Science Education (CASE), the Museum offers a variety of student, teacher and family programs that make a difference in communities and contribute to MSIs larger vision: to inspire and motivate children to achieve their full potential in science, technology, medicine and engineering. Come visit and find your inspiration! MSI is open 9:30-4 p.m. every day except Thanksgiving and Christmas day. Extended hours, until 5:30 p.m., are offered during peak periods. The Museum is grateful for the support of its donors and guests, who make its work possible. MSI is also supported in part by the people of Chicago through the Chicago Park District. For more information, visit msichicago.org or call (773) 684-1414 or (800) GO-TO-MSI outside of the Chicago area.
SCHUNK, the worldwide competence leader for clamping technology and gripping systems, is a family owned operation and a global player in one. Totaling more than 60 years of experience, SCHUNK offers worldwide leading technology in gripping systems and clamping technology. With more than 2,300 employees located in more than 50 countries in a network of directly owned subsidiaries, SCHUNK offers global customer service and technical support. SCHUNK designs and manufactures an unmatched selection of gripping systems including grippers, rotary modules, linear modules, robotic components, sensors and accessories. SCHUNK lives its mission that "with a pioneering spirit and perfection, we are setting worldwide standards". As a brand ambassador of the SCHUNK team, the No. 1 goalkeeper communicates our global competence leadership for clamping technology and gripping systems. The top performance of SCHUNK and Jens Lehmann are characterized by dynamics, precision, and reliability.
Featured Product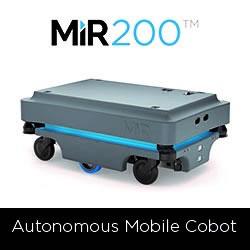 MiR200 is a safe, cost-effective mobile robot that automates your internal transportation. The robot optimizes workflows, freeing staff resources so you can increase productivity and reduce costs. MiR200 safely maneuvers around people and obstacles, through doorways and in and out of lifts. You can download CAD files of the building directly to the robot, or program it with the simple, web-based interface that requires no prior programming experience. With its fast implementation, the robots offers a fast ROI, with payback in as little as a year.