Maker Faire Detroit returns to The Henry Ford for its 6th year on July 25-26 with a new location for the outdoor midway, new projects on display and more than 70 new makers debuting in Detroit for the first time.
Dearborn, Mich. June 25, 2015

Maker Faire Detroit returns to The Henry Ford for its 6th year on July 25-26 with a new location for the outdoor midway, new projects on display and more than 70 new makers debuting in Detroit for the first time.
New this year, visitors will see a three-story Hot Wheels ramp created by local engineer Matt West and his son Blade that is currently going for the world record for the largest Hot Wheels ramp. Visitors will also have the opportunity to get inside a 50-foot motion simulator rocket named the Astroliner. For music fans, Les Paul Sound Experience, a 53 interactive state-of-the-art mobile experience offers hands-on interactives celebrating the great Les Paul. Also making their Maker Faire debut is Cirque Mechanics. Inspired by the modern circus, Cirque Mechanics is known for its unique approach to performance, inspiring storytelling and innovative mechanical staging through acrobatics and a bit of clowning around. In addition to new makers, Handmade Toledo has signed on to present the handmade arts and crafts portion of this years faire.
Fans of the Emmy-winning CBS series The Henry Fords Innovation Nation will have the chance to see some of the shows featured innovators at Maker Faire Detroit including Liter of Light, Medical MacGyver, PancakeBot, Solar Roadways and Soloshot. Other special guests include celebrity modder Ben Heck who will be hosting a special display and speaking with makers for an episode of The Ben Heck Show, author and craft king Mark Montano joining the Great Lakes Bead Workers Guild for hands-on demonstrations and designer and innovative humanitarian Dara Dotz doing a special presentation on Field Ready, a 3D printing program focusing in on on-demand manufacturing in post-Disaster Zones.
For the sixth annual event, The Henry Ford will be moving the faires outdoor midway location from the Henry Ford Museum parking lot to the Lovett Hall lot located behind the museum. The new location provides guests more convenient parking opportunities and easier access to makers located both inside and outside the museum. A shuttle service sponsored by the University of Michigan-Dearborn will also be available at its Fairlane campus located at 1900 Hubbard Dr. in Dearborn.
Ticket prices for Maker Faire Detroit are $28 for adults (13-61), $19.00 for youth (5-12), and $26 for seniors (62+) and can be purchased now. Children 4 and under are free. Members of The Henry Ford receive 50 percent off admission to Maker Faire Detroit. For more information, visit our website at http://www.makerfairedetroit.com or like us on Facebook at http://www.facebook.com/makerfairedetroit. Maker Faire Detroit is independently produced by The Henry Ford in collaboration with Maker Media. Maker Faire Detroit is sponsored by Ford Motor Company Fund, Pure Michigan and Shell.
About The Henry Ford
The Henry Ford in Dearborn, Michigan is an internationally-recognized cultural destination that brings the past forward by immersing visitors in the stories of ingenuity, resourcefulness and innovation that helped shape America. A national historic landmark with an unparalleled collection of artifacts representing the Archive of American Innovation, The Henry Ford is a force for sparking curiosity and inspiring tomorrows innovators. More than 1.6 million visitors annually experience its five attractions: Henry Ford Museum, Greenfield Village, The Ford Rouge Factory Tour, The Benson Ford Research Center and The Henry Ford IMAX Theatre. A continually expanding array of content available online provides anytime, anywhere access. The Henry Ford is also home to Henry Ford Academy, a public charter high school which educates 485 students a year on the institutions campus. In 2014, The Henry Ford premiered its first-ever national television series, The Henry Fords Innovation Nation, showcasing present-day change-makers and The Henry Fords artifacts and unique visitor experiences. Hosted by news correspondent and humorist, Mo Rocca, this weekly half-hour Emmy-winning show airs Saturday mornings on CBS. For more information please visit our website thehenryford.org.
About Maker Faire
Maker Faire is the Greatest Show (and Tell) on Earth—a family-friendly showcase of invention, creativity, and resourcefulness, and a celebration of the Maker Movement. It's a place where people of all ages and backgrounds gather together to show what they are making and share what they are learning.
Maker Faire celebrated 131 Faires in 2014 alone and has reached over 2.3 million attendees globally since it launched in San Mateo, CA, in 2006, less than a year after the publication of the first Make: magazine in 2005. The tenth annual Maker Faire Bay Area welcomed some 1,200 makers and 145,000 attendees. World Maker Faire New York, the other flagship event, has grown in five years to 830-plus Makers and 85,000 attendees. Atlanta, Detroit, Kansas City, Milwaukee, Orlando, Pittsburgh, Silver Spring, San Diego, Paris, Rome, Oslo, Newcastle (UK), Berlin, Hannover, Trondheim, Seoul, Taipei, Tokyo, Singapore and Shenzhen host our "featured" larger-scale Maker Faires, and community-driven, independently organized Mini Maker Faires inspire and ignite creative communities everywhere around the United States and internationally.
Located in San Francisco, CA, Maker Media has been widely credited with jumpstarting the worldwide Maker Movement, which has been a transforming force in innovation, culture, and education. In addition to publishing Make: magazine and producing Maker Faire, Maker Media develops "getting started" kits and books it sells through its Maker Shed store as well as other retail channels. Maker Media is based in San Francisco, and has offices in Sebastopol, CA and at the Palace of Fine Arts in San Francisco.
Featured Product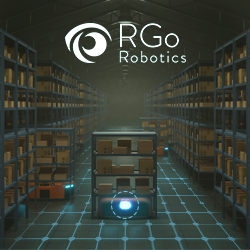 RGo's intelligent vision and AI system, Perception Engine™, provides mobile robots with 3D perception capabilities, enabling them to understand complex surroundings and operate autonomously just like humans. Its camera-based system operates is able to localize, map, and perceive in even the most robust environments including indoor/outdoor and dynamic or unstructured environments.