Standard Modules and Custom Solutions
LASER COMPONENTS' FLEXPOINT laser module series now includes dot and line

lasers with 488 nm. Therefore, in addition to 405 nm and 450 nm, a third
wavelength is available in the blue spectral range.
Depending on the beam profile, the output power amounts to up to 40 mW. Due
to the narrow-banded emission of 488 nm ±2 nm, these laser modules are
optimally suited for fluorescence applications, spectroscopic applications,
and particle measurements.
Further applications include biomedical and medical technology.
In addition to standard modules, customized laser modules can be developed
and produced at attractive prices.
The Company LASER COMPONENTS specializes in the development, manufacture,
and sale of components and services in the laser and optoelectronics
industry. At LASER COMPONENTS, we have been serving customers since 1982
with sales branches in five different countries. We have been producing in
house since 1986 with production facilities in Germany, Canada, and the
United States. In-house production makes up approximately half of our sales
revenue. A family-run business, we have more than 170 employees worldwide.
More Information
http://www.lasercomponents.com/de-en/product/blue-and-purple-blue-flexpoint-
405-nm-450-nm-and-488-nm/
Featured Product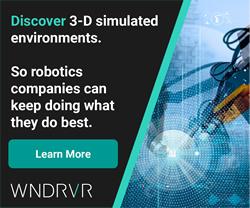 Build and deploy robust, reliable, and secure Linux-based robotic systems without the risk and development effort associated with roll-your-own (RYO) in-house efforts. With Wind River Linux get the industry's most advanced embedded Linux development platform, with a comprehensive suite of products, tools, and lifecycle services to help robotic manufacturers build the next-gen robotic systems. Your robot wants it!