TraceParts has published a detailed report about the use of electrical and electromechanical CAD component models by product family
Saint-Romain, France, 01 July 2015 - TraceParts, one of the world's leading providers of 3D digital content for engineering, has published its detailed statistical report about the use of electrical and electromechanical CAD component models. The report provides precise information about the types of components selected and downloaded from the TracePartsOnline.net platform by design engineers and professionals for their projects.

With over 50 million CAD models delivered to more than 2 million designers registered on TracePartsOnline.net, the 2014 figures highlight the growing demand from design offices for downloadable CAD component files. By providing precise data about who downloaded which electrical and electromechanical components models, by product family, country and sector of activity, TraceParts' 2014 report about electrical and electromechanical components will enable numerous suppliers to forecast the 2015 market trends in the electrical sector.
With almost 800,000 electrical and electromechanical CAD component models downloaded from TracePartsOnline.net last year, many manufacturers and industrial distributors were able to increase their turnover thanks to the information they obtained about new projects in progress. This enabled them to directly contact the design offices that had downloaded the CAD models of their products as early as the design phase.
All the information concerning downloads of electrical and electromechanical components, ranging from switches, circuit-breakers, contactors, power sockets, extenders, connectors and detectors to relays, is compiled in the TraceParts report, available free at:
traceparts.com/electrical-report
Industrial component suppliers who would like more information about publishing their 3D product catalog may contact TraceParts by email at info@traceparts.com or visit our website at www.traceparts.com
About TraceParts
TraceParts is a world-leading digital engineering 3D content company, offering progressive business solutions through powerful web based products and services.
TraceParts brings targeted and cost-effective market penetration to parts vendors, in all sectors of industry.
The TracePartsOnline.net CAD portal is freely available to millions of CAD users worldwide, with hundreds of supplier catalogs and 100 million CAD models and product datasheets suitable for the Design, Purchasing, Manufacturing and Maintenance processes. For more information about TraceParts, please visit www.traceparts.com
Featured Product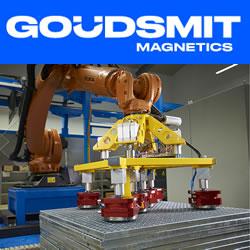 Magnetic robot end-of-arm tooling are suitable for the automated pick-up and positioning of steel or other ferromagnetic objects. They can be switched on and off and have a threaded mounting hole for robots. Magnetic grippers are an efficient alternative for traditional robot grippers. Application in automated production lines and for robots and pick-and-place systems. Magnetic product handling reduces the duration and number of operations. Goudsmit Magnetics is driven by magnetism since 1959. See how it works: https://youtu.be/hcXJ98mXHZE