Cura has been completely reengineered from the ground up for an even more seamless integration between hardware, software and materials.
From the very beginning, Cura software and Ultimaker printers have had an inseparable bond. Each one enhances the other to create one of the best 3D printing experiences ever. Recently, Cura has been completely reengineered from the ground up for an even more seamless integration between hardware, software and materials. Thanks to its innovative Uranium framework, Cura's ready for rapid expansion with a host of upcoming features to make it more powerful. The new Cura software is free for everyone to enjoy.

New foundations. Built on the robust Uranium framework, Cura is incredibly reliable and flexible, allowing Ultimaker's dedicated software team to easily add new features as they become available. As it's the start of a brand new platform, some elements from the previous Cura are yet to be incorporated, but these will arrive soon. In the meantime however, users can still use and receive support for the previous version of Cura.
Powerful new features. As you might imagine, Ultimaker has been working hard to make the whole experience even more refined and seamless. For example, there's a new time-quality slider which replaces the three default profiles. This gives users more control over the balance between quality and time. Ultimaker is sure users will enjoy a handy new undo/redo button. The user interface has also been completely overhauled making it more intuitive and easy to use.
But to add, they also had to subtract. Ultimaker's ambition was to create the best software for the future so they assessed every aspect of Cura to rewrite it from the ground up. As a result, some features were removed. Some are permanent and others will be added in future updates due to their complexity. For example, the Configuration Wizard and Bed Leveling Wizard for the Ultimaker Original and Ultimaker Original+ aren't yet included. Rest assured the Ultimaker team wants these features as much as users do and will implement them as soon as possible. There will be some users that will miss certain features, but to make Cura viable for future growth, it needed to be reengineered. For the full list of what's included and what's not, visit www.ultimaker.com.
Support through the transition. While they work to implement new features, Ultimaker wants to reassure all their advanced users who wish to continue using the previous version of Cura that they will continue to offer support for it.
Inspiring makers everyday. From the very beginning Ultimaker's vision has been to make 3D printing accessible to all. It is why all their desktop printers are extremely quiet, fast, accurate, reliable and effortless to use. Such a commitment has seen them embraced both by professionals and novices alike. This has also helped them to become one of the most successful and reliable open source 3D printing companies in the world.
About Ultimaker
Founded in 2011 by three Dutch makers who invented the original Ultimaker, the leading European 3D printer manufacturer has since received multiple global awards and positive industry product reviews. Most recently, the company was awarded best in shootout 2015 in the established Make Magazine and best Consumer Product at the 3D Printshow Global Awards 2014. Committed to making 3D printing better, faster and simpler, the Ultimaker is designed to print larger objects, while the 3D printer itself only occupies a small space on the desktop. Ultimaker strives to participate in the scene instead of being a corporate entity. As one of the most successful open source companies, Ultimaker works very closely with its community to create a personal fabrication revolution. For more information, please visit www.ultimaker.com.
Featured Product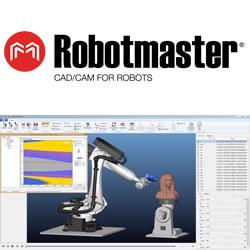 Since Robotmaster V7 uses integrated CAD/CAM functionality, for the first time, the power of Robotmaster can be used by welding, cutting and other process experts without buying or learning complex CAD/CAM software. As in past versions, Robotmaster V7 imports paths, but now makes it even easier for end users to leverage any CAD/CAM tool choice. It is an intuitive tool that anyone could use, with or without robotics expertise. It bridges the gap between robots and manufacturing by providing easy programming solutions for part manufacturing.