Acquires RTC Rapid Technologies to better support partners and customers in the region
MINNEAPOLIS & REHOVOT, Israel--Stratasys Ltd. (Nasdaq:SSYS), a global leader of 3D printing and additive manufacturing solutions announced it has acquired a key German channel partner, RTC Rapid Technologies GmbH. This transaction aims to strengthen the company's presence in the important German Speaking Countries (GSC) region of Germany, Switzerland and Austria and aligns with Stratasys growth strategy for the region.

Following the acquisition, Stratasys will continue to offer the full suite of Stratasys 3D printing solutions and services to the installed base of RTC Rapid Technologies and will work with its regional resellers to further capitalize on growth opportunities in selected verticals in the region.
Stratasys and RTC Rapid Technologies have experienced a mutually beneficial partnership since 2003, with RTC Rapid Technologies being a key European partner that helped establish and develop the GSC region. With this transaction, Stratasys will incorporate to its German operations, a seasoned channel partner team that includes customer service, application support, sales and marketing expertise. Stratasys believes that integrating the RTC Rapid Technologies team will better position the company to serve its partners and customers in the GSC region.
"The GSC region is important to Stratasys. By bringing the expertise of RTC Rapid Technologies founders and employees in-house and their intimate familiarity with the GSC region customers, the extended team is expected to add substantial value, being highly focused on our key accounts and business development efforts in this region," says Stratasys EMEA President, Andy Middleton. "RTC Rapid Technologies has been an invaluable partner and an extension of our company for over 12 years, and I am confident that our new relationship will be a winning combination for Stratasys, our partners and customers alike."
Stratasys Ltd. (Nasdaq:SSYS), headquartered in Minneapolis, Minnesota and Rehovot, Israel, is a leading global provider of 3D printing and additive manufacturing solutions. The company's patented FDM and PolyJet 3D Printing technologies produce prototypes and manufactured goods directly from 3D CAD files or other 3D content. Systems include 3D printers for idea development, prototyping and direct digital manufacturing. Stratasys subsidiaries include MakerBot and Solidscape, and the company operates the digital parts manufacturing service, Stratasys Direct Manufacturing. Stratasys has more than 3,000 employees, holds over 800 granted or pending additive manufacturing patents globally, and has received more than 30 awards for its technology and leadership. Online at: www.stratasys.com or http://blog.stratasys.com.
Featured Product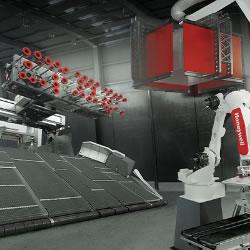 Challenges on the loading dock are characteristic of greater pressures from the rise of e-commerce. Loading and unloading freight from trailers, trucks and shipping containers are arduous, repetitive tasks plagued by high turnover. Even with regularly available staff, manually unloading freight and the constant lifting and twisting results in fatigue and inconsistent, declining productivity. Robotics capable of fully automating unloading tasks bring a new paradigm to the dock. High performance and flexibility push unloading from a labor-heavy, manual chore to an automated, refined process. High-performing DC workers can take more desirable positions, with relief from unpleasant work conditions. Management gets to replace uncertainty and staffing challenges with a reliable, automated process, with data to fuel continuous improvement.