With several die changes a day, a system of removable rails with ATI couplers results in more uptime for Tier 1 automotive supplier.
ANN ARBOR, MICHIGAN. Güdel, Inc. and ATI Industrial Automation announce collaboration on transfer press systems where exchangeable transfer rails are secured by specially engineered couplers. This coupler upgrade mitigates common issues that cause other exchangeable rails to get stuck between die changes. With numerous production runs and die changes per day, this is a major productivity breakthrough for the customer.

New ATI Coupler Averts Maintenance Problems
It took collaboration between two industry leaders, Güdel and ATI, to solve one of the biggest problems with automatic die change for a world-class supplier plagued by sticking, "quick change" transfer rails. Now, with Güdel and ATI technology, changeover of the rails is a smooth operation for continuous production to avoid millions of lost dollars in downtime.
"Normally, one batch of parts runs while another is loaded for a die change," said Joe Campbell, Vice President, Güdel. "If the rails fail to decouple properly then the machine goes down. Now, with ATI Tool Changers, changeover is fast and reliable."
ATI is known for rigid, secure, and reliable coupling devices such as industry-leading robotic tool changers. They designed custom tool changers for Güdel transfer lines that can thoroughly withstand the high speed, high inertia loading environment that is typical with this process.
"What was needed was an extremely strong coupling device that could handle the stress of the rail and die set during the exchange." said Robert Little, CEO, ATI. The simplicity of the tool changer design was also a clear benefit over the hydraulic system previously used that required lots of preventive maintenance and caused downtime.
ATI worked closely with Güdel to make sure they designed a tool changer with an appropriate locking mechanism, alignment pins, and sensors all contained in a package that met the required space constraints, while meeting all of the loading requirements. The press rail development with Güdel is just another example of ATI's willingness to work with the customer to make sure they create a custom solution that meets their needs.
Güdel provides the ETR (Electronic Transfer Rail) and the BDS (Blank De-stack System). All servo motions are linked with parallel operating encoders synchronized to the angle of the press. Fast and rugged, the system uses proven Güdel guideways with maintenance-free bearings and standardized parts. This eliminates service and maintenance costs for a more sustainable, cost-effective solution.
"Güdel offers many ways to optimize cycle time for press lines, and we are proud to partner with world-class suppliers like ATI to solve difficult problems like this," said Joe Campbell, Güdel Vice President.
About Güdel, Inc.
Güdel Inc. is the US subsidiary of Güdel Group, a global manufacturer of robotic automation products, systems and services. Güdel supplies linear motion modules, robot track motion units, gantry robots and components to OEMs, systems integrators and machine builders serving the automotive, aerospace, logistics, heavy industrial and power generation industries. Güdel Inc. is located in Ann Arbor, Michigan in a dedicated 45,000 square foot facility, providing North American customers with engineering, design, production, and, customer service support.
Güdel Group was founded in 1954. Headquartered in Langenthal, Switzerland, today Güdel operates in more than 20 locations worldwide.
About ATI Industrial Automation
ATI is a world-leading, engineering-based developer of robotic peripheral equipment, including Automatic Tool Changers, Multi-Axis Force/Torque Sensing Systems, Utility Couplers, Robotic Deburring Tools, Robotic Collision Sensors, and Compliance Devices. Their robot end-effector products are found in thousands of successful applications around the world. Since 1989, their team of mechanical, electrical, and software engineers has been developing cost-effective, state-of-the-art end-effector products and solutions that improve robotic productivity.
Featured Product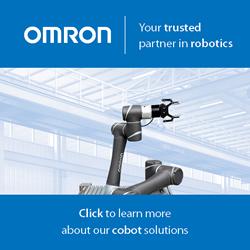 Humans and robots can now share tasks - and this new partnership is on the verge of revolutionizing the production line. Today's drivers like data-driven services, decreasing product lifetimes and the need for product differentiation are putting flexibility paramount, and no technology is better suited to meet these needs than the Omron TM Series Collaborative Robot. With force feedback, collision detection technology and an intuitive, hand-guided teaching mechanism, the TM Series cobot is designed to work in immediate proximity to a human worker and is easier than ever to train on new tasks.