Customers are fairly clear they do not see 3D printers as a viable option to produce their future supplies.
HOUSTON, July 15, 2015 - According to the latest business survey from FMW Fasteners, customers are fairly clear they do not see 3D printers as a viable option to produce their future supplies.

Nearly 60 percent of those surveyed said they were unlikely or very unlikely to turn to 3D printing as an alternative to purchasing fasteners from specialists. With 30 percent unsure, only 10 percent were likely or very likely to see 3D printing as a viable option.
"These results surprised us," says Steve Baker, Marketing Director, FMW Fasteners. "There's a lot of noise around 3D printers so we thought it was prudent to gauge what our customers thought about them - whether they could foresee a future where they could create their own fasteners with their 3D printer. About 60 percent of our customers run their own business or are self-employed with 40 percent of purchases coming from DIY enthusiasts.
"Our results are a pretty definite 'no' from all our customers. Fasteners have got to be strong - they've got to be able to be robust enough to not fail under stress. Is plastic that strong and robust? Until we can see genuine strength from a fastener produced from a 3D printer, the trust will not be there to go ahead and mass produce.
"Our suppliers are the best in the business - trusted and quality assured. We think 3D printing is innovative and has immense potential in the medical and engineering fields, but with something as intricate as a fastener, the 3D printing market still has work to do."
To arrange a conversation please contact Steve Baker at email or call 713-688-6021
www.fmwfasteners.com
Featured Product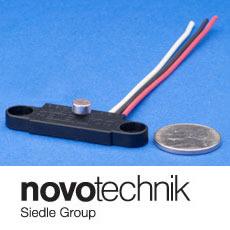 Vert-X 05E Series of dual angle/speed sensors. The series features easy mounting in small and narrow spaces with a 5 mm body depth and mounting flanges with metal inserts. The sensors make measurements only 6 mm from edge of product for close-to-wall measurement applications. Vert-X 05E Series sensors measure angles from 0 to 360°, rotational speed and direction with repeatability to 0.1°.