Olympus Controls Will Market, Integrate and Sell Adept's Mobile Robots in Seven States
Pleasanton, Calif., July 21, 2015 - Adept Technology, Inc. (Nasdaq:ADEP), a

leading provider of intelligent robots, autonomous mobile solutions and
services, announced today that it has added a new distributor, Olympus
Controls, Inc. A full-service automation provider, Olympus Controls will
market and support Adept's portfolio of mobile robots in Washington, Oregon,
California, Idaho, Montana, Texas and Oklahoma.
"We are pleased to welcome Olympus Controls as our newest distributor in the
U.S.," said Rob Cain, president and CEO of Adept. "Olympus Controls is an
ideal partner for our business as their vision is to be recognized as the
best machine automation company in North America. Given their ability to
provide high-value automation solutions within these markets, we believe
that Olympus Controls will be a successful partner to sell our mobile
products."
Olympus Controls President Scott Hendrickson said, "There is a manufacturing
renaissance happening in North America and robots and automation technology
are the point of the spear. There is a tremendous buzz about 'factories of
the future' and one of the most valuable services we provide our clients is
searching for the next disruptive technology that they can confidently
deploy into their factories today. Our team felt that the growth potential
for mobile robots will be strong in the next five years and we wanted to
align ourselves with the market leader in this new space. When we did our
due diligence, Adept Technology was the clear leader in the autonomous
mobile robot category both from a technical and commercial perspective. We
are also very excited that Adept has both their R&D and manufacturing here
in North America."
About Adept Technology, Inc.
Adept is a global, leading provider of intelligent robots, autonomous mobile
robot solutions, and services that enable customers to achieve precision,
speed, quality and productivity in their assembly, handling, packaging,
testing, and logistical processes. With a comprehensive portfolio of
high-performance motion controllers, application development software,
vision-guidance technology and high-reliability robot mechanisms with
autonomous capabilities, Adept provides specialized, cost-effective robotics
systems and services to high-growth markets including medical, electronics,
food and semiconductor; as well as to traditional industrial markets
including machine tool automation and automotive components. More
information is available at www.adept.com.
About Olympus Controls, Inc.
Based in Portland, Oregon, Olympus Controls is an engineering services
company that specializes in machine automation. They help their clients with
the ideation of unique and innovative solutions then they collaborate with
them to deliver the mechanical, electrical and software pieces that take
their solution from concept to reality. For more information about Olympus
Controls, please visit www.olympus-controls.com.
Featured Product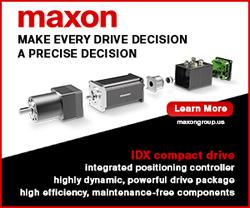 Discover the world of drive technology from a leading worldwide supplier of innovative customized drives. - Manufacturer of brushed and brushless DC motors, gearheads and motion controllers - Custom drive systems, quantities as low as a single unit - Certified for aerospace and medical applications