Using additive manufacturing to produce end-use parts, the company has reduced total cost per part by around 30%
Minneapolis & Rehovot, Israel, July 22, 2015 - Stratasys Ltd. (Nasdaq:SSYS), a leading global provider of 3D printing and additive manufacturing solutions, has today announced that Italian Service Bureau, ZARE, has halved production costs for its direct manufacturing customers in automotive and aerospace since investing in a fleet of Stratasys Fortus 3D Production Systems.

Following the longstanding success of using Stratasys PolyJet and FDM 3D printing for prototyping applications, the company now deploys its Fortus 3D Production Systems to expand its direct manufacturing services to customers. This spans a spectrum of traditional manufacturing applications, including injection molding, tooling and the production of final parts.
"After a steady decline in traditional manufacturing business, the introduction of Stratasys Fortus FDM technology has given us a significant edge over our competition and has enabled us to reduce manufacturing costs for our aerospace and automotive customers by 50 percent," says Andrea Pasquali, R&D Manager of ZARE. "This has been key to revitalising our direct manufacturing business, as we can quickly produce durable end-use parts for our customers in the final material. We have seen a substantial reduction in iteration costs and turnaround times, and we have reduced the cost per final part by around 30 percent."
Pasquali explains: "For one customer, we tested a 3D printed prototype of an aerospace pipe that we produced in high performance ULTEM 9085 thermoplastic material. However, with the materials high strength-to-weight ratio and FST (flame, smoke and toxicity) rating, we quickly realised that we could go beyond functional prototype testing and actually manufacture final-parts that match the strength of metal.
"By replacing metal-manufactured parts with high performance thermoplastics, our customers can meet a vital requirement of aircraft manufacturing by reducing overall weight, while maintaining production quality and adhering to passenger safety requirements. A great example of this is the use of additive manufacturing to directly manufacture lightweight air conditioning ducts for aircraft."
Additive Manufacturing Driving 50% of Aerospace and Automotive Production
The expansion of additive manufacturing services to include both prototyping and direct manufacturing has had a positive impact across the business, not only for aerospace, but also automotive manufacturing. According to Pasquali, applications for these two sectors now account for nearly 50 percent of ZAREs operations thanks to the advanced 3D printing materials available from Stratasys.
Pasquali explains: "The wide range of materials at our disposal enables us to select characteristics that match those of traditional manufactured parts at a fraction of the weight and cost. For example, leveraging its high UV-stability, we now manufacture car bumpers in ASA and headlights in PC-ABS, which combines both the superior strength and heat resistance of PC and the flexibility of ABS."
Davide Ferrulli, Stratasys' Italian Territory Manager concludes: "As ZARE demonstrates, the use of additive manufacturing for the production of production parts in key industries such as aerospace and automotive offers a fast and cost-effective way to improve areas of the traditional manufacturing process. With our materials advancing, customers are finding that they can build more parts than ever before with parallel strength and durability to those traditionally manufactured."
Stratasys Ltd. (Nasdaq:SSYS), headquartered in Minneapolis, Minnesota and Rehovot, Israel, is a leading global provider of 3D printing and additive manufacturing solutions. The company's patented FDM and PolyJet 3D Printing technologies produce prototypes and manufactured goods directly from 3D CAD files or other 3D content. Systems include 3D printers for idea development, prototyping and direct digital manufacturing. Stratasys subsidiaries include MakerBot and Solidscape, and the company operates the digital parts manufacturing service, Stratasys Direct Manufacturing. Stratasys has more than 3,000 employees, holds over 800 granted or pending additive manufacturing patents globally, and has received more than 25 awards for its technology and leadership. Online at: www.stratasys.com or http://blog.stratasys.com
Featured Product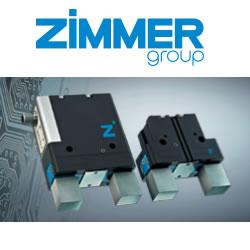 IO-Link is the first standardized IO technology worldwide for communication from the control system to the lowest level of automation.