Airwolf 3D Unveils WolfBite MEGA, Industry-Changing Adhesive Solution for Optimal Polycarbonate and PC-ABS 3D Printing
Airwolf 3D today announced Wolfbite MEGA, a premium solution specifically engineered to bond PC and PC-ABS (Polycarbonate and Polycarbonate-Acrylonitrile Butadiene Styrene) parts to a glass 3D printer build plate without lifting—also known in the industry as "warpage"—and to enable smooth release of objects after printing. Wolfbite MEGA works well with any 3D printer equipped with a heated bed that utilizes glass or ceramic printing surfaces.

"Were extremely proud to have developed the first solution capable of effectively bonding polycarbonate to glass and ceramic build surfaces," said Erick Wolf, co-founder, Airwolf 3D. "Users will see a notable difference in the output of their 3D printed projects when using Wolfbite MEGA."
POLYCARBONATE AND PC-ABS are the most preferred 3D printed materials for high-strength, functional parts because of their superior tensional and flexural strength characteristics, as well as their resistance to heat and shrinkage. PC and PC-ABS materials are also desireable 3D printing materials because of their machinability and, in the case of PC-ABS, its ability to be vapor polished. Traditionally; however, these materials do not bond well with glass 3D printer build plates. The most common methods for encouraging adhesion to the build plate have been a combination of PET film and generous coats of washable glue; a process that can be inconvenient, messy, and costly. PC and PC-ABS can be so bond-resistant that, even with these traditional adhesion methods in place, makers are often limited to 3D printing small objects to reduce the likelihood of warpage during the print process.. Airwolfs new proprietary Wolfbite MEGA solution, with its advanced surface chemistry, is the answer to these common PC and PC-ABS problems. With just one to two coats, Wolfbite MEGA strongly bonds PC and PC-ABS objects to the heated 3D printers glass or ceramic build plate. When the build plate cools down, Wolfbite MEGA relaxes its bond with the 3D printed object, allowing for easy removal of the part. Wolfbite is also available for 3d printing with ABS and Wolfbite Nano is available for use with PLA.
Wolfbite MEGA is applied with an applicator brush straight onto the glass or ceramic build plate, eliminating the need for costly PET tape. One light coat of Wolfbite provides enough bed adhesion to last for several prints. After applying Wolfbite MEGA to the build plate, 3D printing can commence immediately with a heated bed. Airwolf 3D developed the proprietary solution to promote excellent bed adhesion while allowing easy removal of the finished product. 3D printed parts can be removed from the print bed immediately when finished without having to apply any additional post-process treatment.
"As a leading manufacturer of high-temperature 3D printers that excel at producing large 3D printed parts in Polycarbonate and PC-ABS, we are aware of the frustrations that users have with bed adhesion and removal of their polycarbonate parts," said Wolf. "After months of research and development, we are pleased to offer a solution that will benefit nearly all desktop 3D printer users." Wolfbite MEGA was developed at Airwolf 3D through a collaboration with Professor Miodrag "Mickey" Micic, Sc.D., Ph.D., M.T.M., department chairman at Cerritos College in Norwalk, Calif., and well known polymer chemist.
"This is a new, environmentally friendly solution for resolving the acute problem of Polycarbonate and PC-ABS- based 3D printing, part adhesion and warpage. The solution is based on a combination of the latest results in green chemistry, advanced polymer science and MEGA technology to create the best possible adhesion using compounds which are generally regarded as safe," said Dr. Micic.
While it is designed to improve the usability and size of polycarbonate prints for any 3D printer capable of extruding at high temperature, Wolfbite MEGA is especially effective when used with our next generation AXIOM series 3D Printers due to their fully enclosed print chamber. According to Dr. Micic, "The AXIOMs full enclosure provides a stable printing environment that protects the 3D print from fluctuations in temperature that can ruin large prints. When combined with the AXIOMs fully enclosed print chamber, Wolfbite MEGA enables users to print extra large parts in PC and PC-ABS that were previously only possible in some of the most expensive industrial 3D printers on the market."
Wolfbite MEGA is packaged in a two fluid ounce container and comes with a foam brush applicator. It is currently available for sale on the Airwolf website at an introductory price of $19.99. Airwolf 3D will be demonstrating Wolfbite MEGA at the 3D Print Show in Los Angeles.
About Airwolf 3D
Airwolf 3D is committed to designing, manufacturing and selling 3D printers and 3D printing peripherals that are fast, affordable, durable and easy to use. Airwolf 3D has authorized dealers in more than 20 countries around the world. Airwolf 3D printers are delivered fully assembled and ready to print. All Airwolf 3D printers are made in America and manufactured in the companys 12,000 sq. ft. facility in Costa Mesa, California. Airwolf 3D printers can be found in Fortune 500 companies, engineering firms, government agencies and schools worldwide. If you would like to buy the best 3D printer in its class, please visit http://airwolf3d.com/shop/. Or you can telephone (949) 478-2933, email info(at)airwolf3d(dot)com, or visit the companys showroom at 130 McCormick, Suite 105, Costa Mesa, CA 92626 for a free demonstration.
Featured Product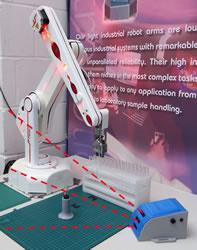 The ST Robotics Workspace Sentry robot and area safety system are based on a small module that sends an infrared beam across the workspace. If the user puts his hand (or any other object) in the workspace, the robot stops using programmable emergency deceleration. Each module has three beams at different angles and the distance a beam reaches is adjustable. Two or more modules can be daisy chained to watch a wider area. "A robot that is tuned to stop on impact may not be safe. Robots where the trip torque can be set at low thresholds are too slow for any practical industrial application. The best system is where the work area has proximity detectors so the robot stops before impact and that is the approach ST Robotics has taken," states President and CEO of ST Robotics David Sands.