Micro-Location Technology Will Help Thousands of Visitors Navigate Through Hundreds of Makers
Detroit, MI July 24, 2015

Lochbridge, a technology consulting and services provider delivering Internet of Things (IoT) innovations across industries, has created the app that will guide visitors through Maker Faire Detroit, held July 25-26 at The Henry Ford in Dearborn. For the 5th consecutive year, Lochbridge has developed the festivals official mobile app, which now features new Bluetooth Smart beacon technology to guide visitors among the hundreds of makers and tinkers displaying everything from robots and flame shooters to animatronics and solar-powered mechanical sculptures.
"As the App Sponsor for Maker Faire Detroit, Lochbridge is in its element. Like so many here, we take pride in creating concepts and building products that never existed before in the technology space. Were tinkers too," said Tim Fisher, Principal Architect of Lochbridges Advanced Solutions and Innovation Group.
For the first time ever, the Maker Faire Detroit app will integrate Bluetooth beacons - quarter-sized sensors that can pinpoint where people are located in the area, how long theyve been in a particular spot and more. The micro-location technology will use low-energy Bluetooth signals to send messages to visitors smart devices and draw them to the makers closest to them. The festival has been divided into 15 beacon zones from Lovett Hall to the Henry Ford Museum, where more than 300 makers will be on display.
The interactive app also allows users to read about the featured displays, build their own personalized schedule, follow event maps and stay informed about general information, such as parking and what to bring. The app is powered by a cloud service developed by Lochbridge, so The Henry Ford staff can update schedules, maps, maker profiles, event info and other data as-needed through a web administration interface. The app is free and available on the Apple App Store and Google Play.
In addition to creating the festival app, Lochbridge will be exhibiting within the Car Court at The Henry Ford museum and demonstrating LAYR, an advanced proof-of-concept for next-generation in-dash automotive applications. Lochbridge will also provide visitors with an overview of the beacon technology featured in the Maker Faire Detroit app.
"Beacon technology has become a game changer among retailers, especially as shoppers become more dependent on their smart devices to get product information, price comparisons and coupons," said Fisher. "We help clients embrace emerging technology, such as Beacons, to enhance their business and translate their brands across an ever-changing technology landscape. From asking the right questions before we begin designing, to anticipating the possibilities of the future, we are ready to help other redefine their brands digital experiences."
About Lochbridge
For over four decades, Lochbridge has been a trusted technology partner to enterprises worldwide. Lochbridge develops technology strategies that drive growth; delivers systems that are the backbone of leading enterprises; and transforms businesses through emerging technologies, including mobile, Internet of Things (IoT) and Big Data analytics. Lochbridge continues to deliver the quality and reliability that our customers rely upon while ensuring their technology continues to elevate their businesses. For more information, please visit http://www.lochbridge.com.
Featured Product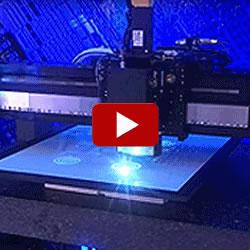 Hexapod micro-motion robots are based on a very flexible concept that can easily solve complex motion and alignment problems in fields including Optics, Photonics, Precision Automation, Automotive, and Medical Engineering.