Cutting edge explosive ordnance disposal (EOD) suit provides highest level of protection
Morgan Advanced Materials has announced the launch of a new, lightweight explosive ordnance disposal (EOD) suit, the Silverback 4020 Elite suit, from its Composites & Defence Systems business. Combining new technology, cutting edge materials and premium quality garment construction, the suit gives users the highest levels of protection, while allowing them the freedom of movement required to successfully complete EOD tasks.

Key benefits of the Silverback 4020 Elite suit include its innovative quick-release technology, which allows the user to get out of the suit unaided, in less than 20 seconds; while the ergonomics and design of the suit afford the user the freedom of movement to crouch, crawl and climb as required - ideal for when users need to gather forensic evidence.
The suits helmet is available with either a scratch-resistant heated glass or polycarbonate visor. Combined with a balanced battery pack, the operator benefits from superior vision and enhanced situational awareness even in the most demanding of environments.
The suit also features a decoupling breastplate with an innovative three-piece design to optimise flexibility, an integrated back protector that provides blunt trauma protection and delivers cooling air, and a cooling system that fits unobtrusively at the rear of the suit. In short, the Silverback 4020 Elite suit combines operational flexibility with uncompromising levels of safety.
Martyn Cook, Development Director for Morgans Composites & Defence Systems business, comments on the latest addition to Morgan's highly respected range of protective systems. "The new Silverback 4020 Elite suit offers excellent freedom of movement a genuine advantage in the field, particularly where users need to gather forensic evidence," he explained. "We have taken great care to combine this flexibility with the high levels of quality and protection for which Morgan is quite rightly renowned - we are very proud of this achievement."
For further information, please visit: www.morgandefencesystems.com/silverback-elite
ENDS
Suggested Tweets
.@MorganAdvanced delivers innovative, lightweight suit for use in bomb disposal
New EOD suit from @MorganAdvanced allows users to get out of suit unaided in less than 20 seconds
About Morgan Advanced Materials
Morgan Advanced Materials is a global materials engineering company which designs and manufactures a wide range of high specification products with extraordinary properties, across multiple sectors and geographies.
From an extensive range of advanced materials we produce components, assemblies and systems that deliver significantly enhanced performance for our customers products and processes. Our engineered solutions are produced to very high tolerances and many are designed for use in extreme environments.
The Company thrives on breakthrough innovation. Our materials scientists and applications engineers work in close collaboration with customers to create outstanding, highly differentiated products that perform more efficiently, more reliably and for longer.
Morgan Advanced Materials has a global presence with over 10,000 employees across 50 countries serving specialist markets in the energy, transport, healthcare, electronics, petrochemical and industrial sectors. It is listed on the London Stock Exchange in the engineering sector.
For more information on Morgan Advanced Materials visit www.morganadvancedmaterials.com
For further information, please contact:
Luke Bull/ Jonathan Desmond, Wyatt International
luke@wyattinternational.com / jonathan@wyattInternational.com
Tel +44 121 454 8181
Francesca Minett, Morgan Advanced Materials
francesca.minett@morganplc.com
Tel +44 (0)1299 827000
Featured Product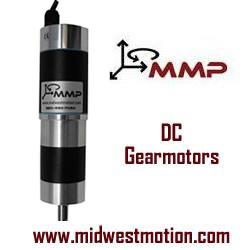 Midwest Motion Products, Inc. (MMP), is a well-established, healthy, & growing Family Owned Business, founded in 2001. MMP specializes in cost-effective standard DC Gearmotors, Motors, Controls, and ancillary equipment. Known world-wide for our "Lightning Fast" delivery capabilities, you can have a Standard Planetary or Right Angled DC Gearmotor BUILT and SHIPPED, often on the very same day you call. Offering Brushed and Brushless designs, with winding voltages ranging from 12 VDC to 120 VDC, we can deliver your "Robust & Reliable" samples within HOURS, instead of weeks, or even months.