Startups and inventors get a boost in South Florida
Are you ready to launch your next product idea or invention?

Prototype House specializes in helping entrepreneurs, startups and inventors navigate the complex process of a product development. For those who have an idea for a new product but don't know how to implement it, Prototype House is ready to help! 2015 FAU Business Plan Competition Sponsor and service provider.
Prototype House helps turn ideas into a reality. They provide full-spectrum product launch services for clients. Their team has expertise in all phases of the product development process: from the initial concept ideations, product design, engineering, prototyping, packaging design, manufacturing and initial launch. Their extensive service offering enables the client's ideas to become marketplace realities quickly, and with minimal hassle on the client's behalf.
Prototype House's talented team has served a range of clients including Fortune 500 companies and household names like Wal-Mart, Office Depot, Target and Home Depot, and has been involved with over 65 product launches. Here's what clients have to say;
"I have been working with Matthew and Francisco, of Prototype House, for the past number of months on developing my product the HyperChiller. They have helped me refine this project from rough sketches to a working prototype, and now on to more refinements for manufacturing. Their direct investment in their manufacturing facilities is another big plus for anyone hoping to have a trustworthy contact." - Nick Anusbigian, President, Hyperbius, Inc. www.hyperbius.net
"Prototype House helped me bring my product to the market. They were very helpful and knowledgeable about all facets of product development. They offer a great client relationship and I recommend them to any business. My products were produced quickly, with great quality." - Matthew Rothenberg, Inventor, CEO, uten-sil.com
Prototype House has created a four-phase approach to product development. These phases, discussed below, are the key to turning an idea into a marketable product in a minimal time frame. For more information on these phases you can visit their website here.
PHASE 1: Conceptualization and Invention Critique
During Phase 1, Prototype House helps its clients realize their initial product idea or invention and then push the boundaries of the invention by exploring many new techniques, features, and benefits that can add value and patentability to the final product. These can be improvements on existing products, combinations of ideas to generate new products, or an entirely new concept. Phase 1 of the invention process includes technical design research, concept exploration and fundamental market research. A spokesperson for Prototype House emphasizes, "A successful product fulfills a market need in a way that no existing product can. We help our clients create helpful products that fit those needs with optimal margins."
PHASE 2: 3D Engineering & Product Design
The team at Prototype House helps inventors implement a product design that is cost effective, keeps its design intent, ensures its feasibility and enhances its potential marketplace success. Their design experts help transform your idea into a manufacturable product. They deliver the core engineered 3D CAD files, technical drawings, photo realistic renderings, functional prototypes, and component testing. Prototype House also specializes in 3D printing, silicone prototypes, appearance models, and functional PCB prototypes.
PHASE 3: Protection
An inventor's worst nightmare is having their product design copied or stolen by unscrupulous competitors. Prototype House industry partners can secure full IP protection in accordance with US patent and copyright law to ensure its clients' intellectual property is fully protected under the law and answer any related legal questions. Prototype House also signs a NDA (Non-Disclosure Agreement) with all new potential clients to ensure all ideas are kept confidential.
PHASE 4: Manufacturing
Prototype House will establish your manufacturing and ensure your product is produced with the utmost quality by qualified manufacturing partners. Implementing a manufacturing plan can be a daunting task. Prototype House will help you develop functional prototypes and/or small production samples which help to test and improve your product. This vital step helps fix any issues, if necessary, prior to mass manufacturing.
The team thrives on the thrill of invention! That's why it is now inviting entrepreneurs, start-ups, and inventors to begin the exciting process of turning an idea into a marketable product. It invites interested parties to call (561) 922-9931 to learn more about Prototype House, survey its portfolio, and receive honest, professional feedback on their idea or design from the expert team at Prototype House.
Featured Product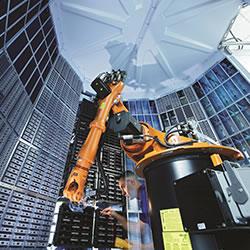 The industry's first comprehensive Robot Integrator Program saves robot integrators significant time and cost investments by allowing them to mark each cell compliant with ANSI/RIA R15.06 with the TUV Rheinland Mark. As opposed to a traditional certification or an on-site field labeling, TÜV Rheinland's Robot Integrator Program certifies the knowledge and skill-set of robot integrators in addition to testing robotic cells and processes against ANSI/RIA R15.06. This reduces the need for frequent onsite or off site testing and allows manufacturers to apply a single TÜV Rheinland label to multiple cells. The Robot Integrator Program individually assesses a robot integrator's understanding of the ANSI/RIA R15.06 standard along with the ability to consistently produce compliant robot cells. Following the requirements and procedures of the new program will enable robot integrators to produce individually compliant robotic cells under one serialized TÜV Rheinland Mark, which meets the national electric code and allows acceptance by Authorities Having Jurisdiction (AHJ) and end users.