Unique Highly Versatile Materials Enable More Complex 3D Printing and Expand Artistic Creativity
SHANGHAI July 30, 2015

Polymaker, an innovative producer of high-quality filament for 3D printers, is expanding its product line to provide industrial designers with highly-versatile materials that enable them to create more complex 3D printing projects, as well as streamline their overall manufacturing process.
The latest products to be introduced by the company are PolySupport, a groundbreaking support material, as well as an expanded color palette for the companys extremely tough, high-quality PolyMax PLA.
PolySupport is an entirely new material designed to solve one of the most daunting problems in desktop FDM/FFF 3D printing: that of support for the model being printed.
Unlike any existing support material on the market today, PolySupport provides a support structure that can easily and cleanly be removed by hand or with simple tools, without damage to the finished models surface. This is particularly important for projects with detailed finishes that can be compromised by current support materials on the market.
PolySupport works just like regular 3D printing filament, printing reliably at 220-240 °C with no heated build plate required. It can be used on both single extrusion printers as both the support and modeling material, and dual extrusion printers as a dedicated support material. It also has little or no sensitivity to moisture.
"Many designers who currently work in 3D go to great lengths to avoid using support in their projects, opting instead to create several less complex pieces to be assembled later," said Dr. Xiaofan Luo, CEO of Polymaker. "PolySupport overcomes this problem and, in fact, is particularly good for parts with large overhangs, preventing print failure due to lack of support. We believe that this material will strongly appeal to industrial designers who want to unleash their creativity and follow their visions."
PolySupport joins Polymakers growing family of revolutionary 3D filament products, which also includes PolyMax PLA, PolyPlus, PolyFlex and PolyWood.
PolyMaxPLA: ABS No More?
Polymaker also announced that it has expanded the color selection of its immensely popular PolyMax PLA to six colors, adding red, yellow, orange and blue to the currently available black and white.
As most industrial designers can attest, regular PLA is a very brittle material, limiting its range of application. This has led many designers to opt for ABS. But while inherently strong, working with ABS has serious consequences—namely, a harmful odor that creates a potential health risk.
PolyMax PLA is out to change this. Known for its excellent mechanical properties and printing quality, PolyMax PLA is extremely tough—up to nine times stronger than regular PLA, and 20 percent better than ABS. In addition, it has earned a stellar reputation for being virtually jam free—which saves a great deal of time and frustration when creating new projects that often take hours to print. It also offers high printing quality and stability, with no hazardous gas or part warping.
And with the new vibrant color options, industrial designers no longer have to choose between stunningly colorful models and strong durable parts.
When used together, PolySupport and PolyMax give designers the ability to reach deeper into their creative reserves and produce mind-blowing projects of which they could only previously dream.
PolySupport (MSRP $39.99 per reel) and PolyMax PLA (MSRP $49.99 per reel) are available on the Polymaker website (http://www.polymaker.com) and through selected distributors. To see PolySupport and PolyMax in action, as well as the other remarkable 3D printing materials in the Polymaker product line, please visit Polymakers YouTube Channel (http://bit.ly/1HP7BVv).
Featured Product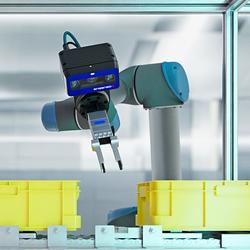 IDS NXT: a platform for a new generation of vision systems for industrial applications. It lays the groundwork to provide easy-to-use yet flexible complete systems that can be used to implement all steps of a vision solution. With IDS NXT ocean, a complete solution especially for AI-based image processing is now available. It allows to solve tasks where classic, rule-based image processing has reached its limits - without any programming effort.